Calabrese Music Video Features First Released Footage from "The Graves"
Author
Date
07-06-2009
Comments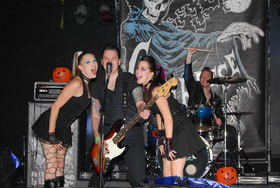 The new music video for punk band Calabrese's "Vampires Don't Exist" contains a bonus for horror fans -- the first released footage from Brian Pulido's upcoming film, The Graves. "We'll launch The Graves official trailer on July 20th, right before Comic-Con International, but we wanted to give everyone a sneak peek," says Pulido, who both wrote and directed the film. "We feature Calabrese early on in The Graves and this video is a natural extension of that scene." The video, which is posted on the official YouTube page for The Graves at http://www.youtube.com/thegravesmovie, features footage of horror icons like Tony Todd and Bill Moseley, as well as other stars of the film.
The Graves is about sisters Megan and Abby whose visit to Skull City Mine turns into a mind bending fight for survival against menaces both human, and supernatural. We interviewed Pulido back in January about the movie, which stars Clare Grant (Masters of Horror: Valerie on the Stairs), Jillian Murray (The Fun Park), Bill Moseley (The Devil's Rejects, Texas Chainsaw Massacre 2), Amanda Wyss (A Nightmare on Elm Street), Calabrese and Tony Todd (Candyman).