Classic-Horror.com Sponsors the 2008 International Horror & Sci-Fi Film Festival
Author
Date
10-03-2008
Comments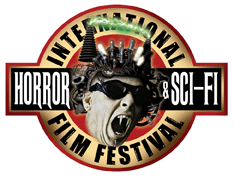 Classic-Horror.com is pleased to announce itself as a proud sponsor of the 2008 International Horror & Sci-Fi Film Festival, taking place October 23-26 at Chandler Cinemas in Chandler, Arizona. The Festival kicks off Thursday night with a screening of the Sundance Selection Donkey Punch (2008). Then on Friday, the screenings start flowing and they continue throughout the weekend. In addition to the festival selections in the categories of horror (Farmhouse, Rapturious, and Rob Schmidt's The Alphabet Killer) and sci-fi (Alien Raiders, Jerome Bixby's The Man from Earth, and Ray Bradbury's Chrysalis), there are also a bevy of shorts. Not enough? How about Re-Animator introduced by star Jeffrey Combs, a 50th Anniversary screening of The Blob, and showings of Friday the 13th, Tokyo Gore Police, and Hell's Ground? Yeah, it's pretty cool.
Full details, including a festival schedule, details on purchasing tickets, and a guide to the festival parties (oh yeah, there's parties) are at the official festival website HorrorScifi.com.
Additionally, the Festival is sponsoring a Zombie Scavenger Hunt (think Zombie Walk with finding stuff) tonight, Friday, October 3rd, in downtown Phoenix during the monthly First Fridays Art Walk. Full details at the official website.