Die, Die, My Darcy: Horror Invades Jane Austen Novel in Two New Projects
Author
Date
02-17-2009
Comments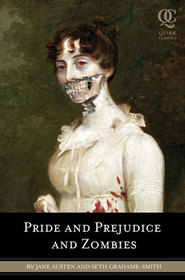 When one weird crossover between English author Jane Austen and the horror genre is announced, it's amusing. When two are in the offing, you start to take notice. Word has been going around for the past couple months about Seth Grahame-Smith's novel Pride and Prejudice and Zombies, which hits bookshelves on May 13, 2009. The book rewrites parts of Austen's literary classic Pride and Prejudice to include the walking dead. As the official press release puts it:
Pride and Prejudice and Zombies features the original text of Jane Austen's beloved novel with all-new scenes of bone-crunching zombie action. As our story opens, a mysterious plague has fallen upon the quiet English village of Meryton—and the dead are returning to life! Feisty heroine Elizabeth Bennet is determined to wipe out the zombie menace, but she's soon distracted by the arrival of the haughty and arrogant Mr. Darcy. What ensues is a delightful comedy of manners with plenty of civilized sparring between the two young lovers—and even more violent sparring on the blood-soaked battlefield as Elizabeth wages war against hordes of flesh-eating undead.
Now word comes from Variety.com that Elton John's production company Rocket Pictures is putting together Pride and Predator, about an alien who crash-lands in the English countryside during the events of Pride and Prejudice and starts slaughtering the main characters. As producer David Furnish told Variety, "It felt like a fresh and funny way to blow apart the done-to-death Jane Austen genre by literally dropping this alien into the middle of a costume drama, where he stalks and slashes to horrific effect."
The next few years will be very strange for Austen fans, especially if the mooted film adaptation of Pride and Prejudice and Zombies comes to pass.
Additional sources for this article: The Vault of Horror and TimesOnline