Horror Critics and Bloggers Select the Top 50 Horror Films of All Time
Author
Date
11-26-2008
Comments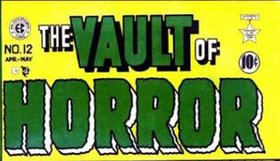 Over at The Vault of Horror (a blog of which I was previously unaware, much to my personal shame), the cheekily named "Cyber-Horror Elite," a gathering of thirty-two of the top horror critics and bloggers from across the web, have put together a list of the Top 50 Horror Films. Each of the participants were asked to submit a ranked Top 10, which Vault owner B-Sol then compiled into the resulting list of fifty. Among those who added their input: John Kenneth Muir (critic and author of numerous tomes on the genre), Brad Miska (editor of Bloody-Disgusting), Stacie Ponder (the Final Girl), and Max Cheney (the Drunken Severed Head).
The Top 50 Horror Films is as expected in many respects -- John Carpenter's Halloween tops it off and the rest of the Top 5 comprises the canon of modern horror. However, there are a few pleasant surprises -- Juan Lopez Moctezuma's delirious Alucarda (#28) and Michele Soavi's morbidly funny Cemetery Man (#37), for example. Still others items on the list are just plain perplexing -- John Landis's Thriller (#38) is a nice tribute to the genre, but it's hardly great horror, and Joseph Green's The Brain That Wouldn't Die (#47) is Mystery Science Theater 3000 fodder. I have my own, more personal quibbles as well. Rather regretfully, foreign horror (and especially Asian horror) receives short shrift and although twelve of the fifty picks were films made before 1960, several key classics are missed -- Val Lewton isn't in evidence at all.
Still, it's an interesting read and one that elicits the real point of any "definitive" list -- discussion. The comments section attached to the Top 50 is rife with conversation about what films were missed, what films had no place there, and the significance (or lack thereof) of doing these lists at all. It does rather make me want to dust off the old Caligari's Cabinet Awards and see what comes of it now that our readers have the ability to comment directly on the results.