New Karloff and Lugosi DVD Box from Warner Bros. for Halloween
Author
Date
03-24-2009
Comments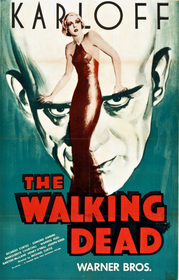 In their annual chat with the Home Theater Forum, representatives from Warner Bros. Home Video announced that a Boris Karloff/Bela Lugosi DVD box set was being prepped for a Halloween release. The four movies in the set will be The Walking Dead (Michael Curtiz, 1936), You'll Find Out (David Butler, 1940), Zombies on Broadway (Gordon Douglas, 1945), and Frankenstein 1970 (Howard W. Koch, 1958 - presented in anamorphic widescreen). The information appears in the chat transcript just over halfway down the page.
I'm choosing to take this news with a pinch of salt, since the last time we heard about a new classic horror box from Warner, nothing came of it. However, commentaries have already been recorded for at least two of the movies. Tom Weaver told us in November that he did a Frankenstein 1970 track with Bob Burns and actress Charlotte Austin. According to a post by Tom over at the Classic Horror Film Board (no relation to Classic-Horror.com), Gregory Mank recorded a commentary for The Walking Dead some time ago.
If this set does come out as promised, I'll happily admit that my misgivings were incorrect -- very happily in fact.