Pascal Laugier Tapped to Direct "Hellraiser" Remake
Author
Date
10-29-2008
Comments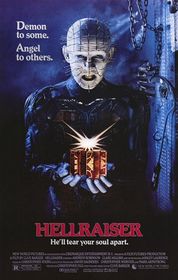 The Hollywood Reporter has announced that French director Pascal Laugier (Martyrs) is close to sealing a deal to write and direct Dimension's planned remake of Clive Barker's 1987 horror movie Hellraiser. Laugier described the remake as "a dream project" and promised that he would not betray Barker's original vision. The original Hellraiser deals with an unfaithful wife who kills to supply her brother-in-law/lover with the blood he needs to reconstitute his body after it was ripped apart by a group of demons known as the Cenobites. The lead Cenobite, known as Pinhead for the nails protruding from his skull, has become an iconic figure in horror, appearing in all seven Hellraiser sequels.
Dimension's Hellraiser remake has seen its share of problems ever since it was announced back in 2006, when Barker posted on his website that he would be writing the new movie. Nearly six months after Barker turned in his treatment, Bloody-Disgusting broke the news that the French duo Alexandre Bustillo and Julien Maury (Inside) would both write and direct (in a B-D interview published shortly thereafter, Barker indicated he was stepping aside from the writing duties). In December 2007, a release date was announced for September 2008, but a month later this was changed to an undetermined point in 2009, because Dimension honchos Bob and Harvey Weinstein weren't happy with Bustillo and Maury's screenplay. Soon after, Marcus Dunstan and Patrick Melton (Feast, Saw III-V) were brought on to write the movie, with Bustillo and Maury set to begin filming in Spring 2008. Then, suddenly, Bustillo and Maury were off the project and the only peep we heard for six months was a rumor that Darren Lynn Bousman (Saw II-IV, Repo! The Genetic Opera) was being pursued to take over. I hope that the addition of Laugier is the final personnel disruption the remake sees, so that filming can finally get underway.
All historical information on the Hellraiser remake was collated from coverage on Bloody-Disgusting.com.