Pictures from the International Horror & Sci-Fi Film Festival 2008
Author
Date
10-26-2008
Comments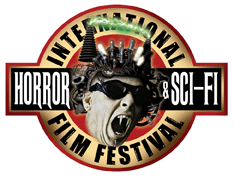 The International Horror & Sci-Fi Film Festival was this weekend and I was on the scene, not only because Classic-Horror.com is an official sponsor of the event, but also because I'm a fan, dammit. Full coverage is upcoming, but here's some pictures to tease you (click a picture to open a larger version in a new window):

Friday the 13th star Adrienne King is being devious


By gum, that's us!


Classic-Horror Editor-in-Creep Nate Yapp with Friday the 13th star Adrienne King.
Photo by Bradley Thornber Photography


Editor-in-Creep Nate Yapp introduces a screening of The Blob (1958)
Photo by Andrea Beesley-Brown


The crowd waiting in line for Saturday's Re-Animator screening


Jeffrey Combs gets his creepy on at the post-Re-Animator Q&A.
I know I met a lot of classic horror fans over the weekend. If you were at the festival, please pitch a comment to us and let us know how it went for you!