Rondo Winners for 2008 Announced
Author
Date
03-24-2009
Comments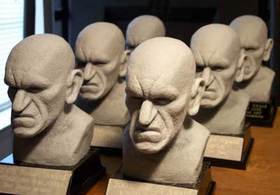 The seventh annual Rondo Hatton Classic Horror Awards were announced last night during a special chat session over at the Classic Horror Film Board (no relation to Classic-Horror.com). Presenting the awards was the founder of the Rondos and owner of the CHFB, David Colton (known as taraco on the boards). Some of the attendees included Video Watchdog writers Tim Lucas and Shane M. Dallmann, Embodiment of Evil actor Raymond Castile, Cinema Suicide proprietor Bryan White, and many many more (read this as, if I'd thought about it, I'd totally have written some names down instead of relying on my frequently faulty memory).
The Rondos are a great boon to the horror community, because they honor not only the films that we are so devoted to, but the fans that keep that love alive. For every winner like The Dark Knight for Best Film and Universal's two-disc Psycho special edition for Best DVD, there is also an award for people like Tim Lucas as Writer of the Year and Forrest J Ackerman's caretaker and friend Joe Moe for Monster Kid of the Year. One surprise Rondo was given late into the ceremony, the newly-created Town of Vasaria Public Service Award, given to Cameron McCasland and Chiller Cinema for their horror-inspired environmental ad campaign, "Go Green with Dr. Gangrene."
Big winners include
Rue Morgue Magazine with four awards -- Best Magazine, Best Article ("Coffin Joe Resurrected" from RM #85), Best Magazine Cover (RM #83), and Best Audio Site or Podcast (Rue Morgue Radio)
Universal Home Video with three awards -- Best DVD presentation (Psycho), Best TV Collection (The Munsters: The Complete Series), and Best DVD Commentary (Rick Baker, Scott Essman, Bob Burns, Steve Haberman, and Brent Armstrong on 1932 version of The Mummy)
Tim Lucas with two awards -- Writer of the Year and Best Blog for his now-mostly-defunct VideoWatchblog)
Basil Gogos with two awards -- Artist of the Year and Best Magazine Cover for Rue Morgue #83)
To read the full list of winners, point your browser to rondoaward.com.