Scream for Your Very Lives! The William Castle Film Collection is Loose on DVD on October 20th!
Author
Date
08-25-2009
Comments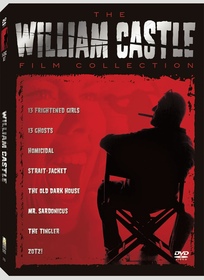 I am Nate Yapp, author of the website article you are about to read. I feel obligated to warn you that some of the sensations, some of the physical reactions which the writers on the site will feel discussing Sony's upcoming William Castle Film Collection will also be experienced, for the first time in Classic-Horror.com history, by certain members of the reading audience. I say "certain members" because some people are more sensitive to the potential awesomeness of a William Castle box set than others. These fortunate people will feel a strange, tingling sensation when they hear that the set will contain 13 Ghosts, Homicidal, Strait-Jacket, The Tingler, Mr. Sardonicus, and, making their DVD debuts, 13 Frightened Girls, The Old Dark House (1963), and Zotz! Some will feel it less strongly than others, but only because I forgot to add that the full-length documentary Spine Tingler! The William Castle Story will also be included. But don't be alarmed. On October 20th, you may obtain immediate relief by purchasing The William Castle Film Collection. Don't be embarrassed about opening your wallet and putting down your $80.95 (suggested retail price), because the person writing this article will be buying, too. And remember this: a preorder at the right time
may save you some cash.
With all apologies to Mr. Castle and screenwriter Robb White. Here's the basis for my lunacy: