Alejandro Jodorowsky Double Feature in Chandler, AZ
Author
Date
11-17-2008
Comments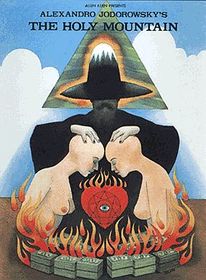 If you live in the Phoenix area (as I do), then Chandler Cinemas has an extremely interesting double feature this weekend. On November 21st and 22nd, audiences can experience the bizarro one-two punch of Alejandro Jodorowsky's El Topo (1970) and Holy Mountain (1973). I'll let the press release do the talking, however, since they sum up the draw for both films far better than I could.
To some pioneering midnight moviegoers of the early Seventies, Alejandro Jodorowsky's legendary El Topo (The Mole) was a phantasmagoric piñata filled with breath-taking imagery, deep religious symbolism and heavy-really heavy-insights into the circle of life.

To other insomniac hipsters, however, the surreal 1970 "taco Western" was the cinematic equivalent of a steaming crock of rancid menudo. Sickened and/or baffled by the non-stop parade of dwarves, amputees, giants and nude women wallowing in bizarre sex, gore and senseless violence, more than a few dazed and confused cineastes staggered out of theaters into the night feeling like one of the dismembered cast members: Had Jodorowsky just yanked the audience's legs out of its collective socket?

Classic or con? Now, a new generation of film buffs can finally judge for themselves as the Midnite Movie Mamacita presents a rare 35 mm theatrical screening of El Topo. Unseen for decades due to legal problems, the still-controversial cult classic heads up a double bill that also includes Holy Mountain (1973), Jodorowsky's seldom-seen follow-up film. The double feature will screen November 21 and 22 at the Chandler Cinemas.

El Topo (1970): Shot in Mexico on dilapidated sets originally built for a Glenn Ford/Harry Dean Stanton western, the cult classic follows a mysterious drifter (Jodorowsky) who wanders the desert where he encounters life, death, birth, infinity. . . and influences ranging from Clint Eastwood spaghetti westerns, Freaks, Salvador Dali, Luis Bunuel, Sam Peckinpah, Hieronymus Bosch and, apparently, a huge dose of very bad mescaline. Debuting with virtually no publicity as a continuing midnight attraction at New York City's Elgin Theater, Jodorowsky's wee hours jolt-fest soon became a word-of-mouth "must-see" and paved the way for later midnight movie faves like Pink Flamingos, Eraserhead and The Rocky Horror Picture Show.

Holy Mountain (1973): Was Jodorowsky a one-trick burro? See for yourself in this El Topo follow-up, financed by fans John Lennon and Yoko Ono. Although it boasted what was then the biggest budget ever for a Mexican-made feature, this very similar sophomore effort suggested that for many viewers, once was more than enough.

Friday November 21 Holy Mountain @ 9pm; El Topo @ 11pm

Saturday November 22 Holy Mountain @ 5 & 9pm; El Topo @ 7 & 11pm

(Films will run start and run a little over time, $10 Double Feature)
Chandler Cinemas is located at 2140 N Arizona Ave in Chandler, AZ. The theater is cash-only (although there is an on-site ATM). Hope to see you at the movies!