Bruce Campbell Interview
Author
Date
04-22-2003
Comments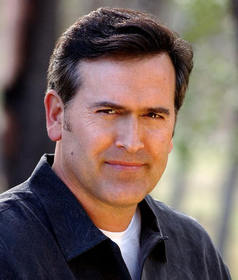 The undisputed god of the modern B movies, Bruce Campbell is most known for his work from the Evil Dead series. He's constantly working on various projects in the industry from movies to video games. Classic-Horror got the opportunity to meet up with him for a discussion about all things evil and dead.
Classic-Horror: Hi Bruce, are you ready to do this?

Bruce Campbell: Yep, I'm ok.

C-H: OK, first question. You met Sam Raimi in high school. When did you start doing films together?

Campbell: Sam was doing little Super 8 movies in his neck of the woods, and I was doing them in mine. You know, little home movie things. So, we just kind of joined forces in high school. I had a camera and he had a camera. He had some things I didn't have, and vice versa. So, that's kind of how it worked.

CH: What's your favorite memory from the Evil Dead filming?

Campbell:: When it was over. It was a really hard shoot.

CH: I heard that you're involved in something called "The Ladies of the Evil Dead". What is this?

Campbell: Actually, no, I'm not. Where did you get that information from?

CH: I think Internet Movie Database.

Campbell: Well there's your mistake. I'm not working on that. Those are the women from the Evil Dead series that are doing their own convention now. Tell your readers that if they want to find out what I'm doing, go to my website, www.bruce-campbell.com. If it's not there, it doesn't exist. Actually, the thing I'm working on now is a book called "Make Love the Bruce Campbell Way."

CH: Actually, your other book "If Chins Could Kill: Confessions of a B-Movie Actor" was recently released in paperback. Why don't you tell our readers about it?

Campbell: The book is basically a trip through Hollywood from a working actor's point of view. It's kind of like the "un-sung" side of Hollywood. It's for the majority of the industry. Most of what we hear about is Bruce Willis and Steven Spielberg. In reality, they are like 1% of the industry. So, 90% of the media covers 1% of the industry. That's a mistake. This is if you want to find out what Hollywood is really like.

CH: Bubba Ho-Tep - the "true" story about what happened to Elvis. Why don't you tell us a little bit about that, and how you got hooked up in that.

Campbell: Well, essentially Don Coscarelli, who directed the Phantasm series, talked to Sam Raimi. I guess Sam told him, "Hey, Bruce can play Elvis." So, he sent it to me and it was the weirdest script I ever read. He didn't have the funding for it together, yet. He wanted to see if I was interested. At the time, he just needed to get some sucker to put up the money for it. Apparently they did, and we shot it two springs ago.

CH: Speaking of Phantasm, is Phantasm's End going to be a reality?

Campbell: Oh, I don't know.

CH: Again, Internet Movie Database had you listed as working on it, so I wanted to confirm.

Campbell: No, there's no truth to that at all.

CH: Many fans may not know you did "Evil Dead: Hail to the King" voiceover. How was that experience for you?

Campbell:Well, on one hand, it's very easy just saying lines of dialogue. On the other hand, you have to record 10 different responses for every way your character might die, or open a door, or whatever. So, you have to over-record essentially. That's the only thing difficult about those things.

CH: Any chance Within the Woods will ever be released?

Campbell: Never. It was a Super 8 movie. It was never meant to be seen by the public.

CH: So, what are you working on now besides your book?

Campbell: I'm working on a documentary about public land use issues called Community Space. I'm also starting a movie called Man With the Screaming Brain for the Sci-Fi channel. Writing, directing, producing, and acting in it.

CH: We saw you recently in Spider-man. Will we see you again in Spider-man 2?

Campbell: You just might! I don't have a confirmed role yet, but you'll probably see me somewhere.

CH: Bruce, I know you're really busy, so I'll let you go. Thank you so much!

Campbell: No problem, thanks, Jenn!
Classic-Horror would like to than Bruce Campbell for interviewing with us. He's certainly a horror icon to many of us, and a great guy to talk to. We wish you all the luck, Bruce!