Cheri Montesanto-Medcalf Interview
Author
Date
01-23-2003
Comments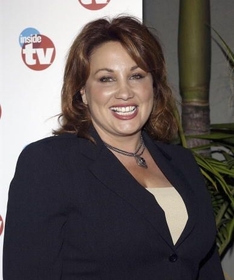 The winner of three Emmys for her makeup work on "The X-Files," Cheri Montesanto-Medcalf was on the fast track for success at an early age. At age 17, while still in high school, she was the department head for makeup on the movie Fear No Evil. Now, she is one of the most sought after makeup artists in the business. I got the chance to interview this perfectly lovely woman, and she gave the people of Classic-Horror a wonderfully insightful behind-the-scenes glimpse of "The X-Files."
Classic-Horror: Hi Cher! Are you ready to do the interview?

Cheri Montesanto-Medcalf: Sure!

C-H: Thank you so much for doing this.

Montesanto-Medcalf: My pleasure.

C-H: Chris Costello sent me a lot of information about you. You've really had a fascinating career in the field. What made you go into makeup?

Montesanto-Medcalf: Well, both my mom and dad do hair as well. So, I grew up around makeup and hair. I just love it. I'm artistic, you know? I also love working around people. Growing up around it…you know my parents both had salons. I would always play with the mannequin heads, doing something to them. I grew up on a beach and I found out at an early age that if you rub sand on your face, it takes all your dead cells away. I knew about exfoliation at the age of six!

C-H: That's great! Do you have any professional influences in the field?

Montesanto-Medcalf: Not really. I know it sounds strange. I've always been my own type of person. I always thought as I was getting older that makeup and hair was an art form. In the early 80's, things started to get separated with beauty makeup artists and special effects makeup artists. I always thought it was best to combine the two because it's good to be able to make something beautiful and make it ugly. So, I always liked doing the whole scope.

C-H: Right. Now your first film at age 17 was Fear No Evil, correct?

Montesanto-Medcalf: Yep.

C-H: I've never seen it. What's it about?

Montesanto-Medcalf: It was about a bunch of high school kids. It was very rock and roll. There was one strange guy that had a pact with the devil.

C-H: What specifically did you do on the film?

Montesanto-Medcalf: I was the makeup department head.

C-H: So, you did all the special effects makeup.

Montesanto-Medcalf: I didn't do the actual big monster, but anything the monster would do to the kids, I did. You know, like cutting them up and stuff. It was strange, because I was 17 and still in high school. I won a New York city hair and makeup contest, then I won the national contest. So, when the film came to my town, they hired me. They didn't know I was 17. They knew I was young, but not THAT young. I guess it's because I was youthful, you know? I mean at 17, you don't really think, "Department head? Can I really do this?" I didn't really think about it. Now looking back I think, "God, how did I have the guts?" You just get a lot more hesitant as you get older, I guess.

C-H: I actually did stand up comedy at 17. Looking back, I'm like, "God, how the hell did I ever have the guts to do that?"

Montesanto-Medcalf: Yeah, right? It's like back then nothing can stop you from doing what you gotta do.

C-H: Now, you were also the makeup artist for Lady in White. Was this your first not-for-TV production?

Montesanto-Medcalf: No, Fear No Evil was a feature. I actually was working on something before Lady in White, because I remember having to fly to film Lady in White the very next day after that film wrapped up. I'm sorry, I just can't remember what it was.

C-H: That's ok. Now Lady in White starred Katherine Helmond ("Who's the Boss," Brazil, "Soap"). What was she like to work with?

Montesanto-Medcalf: She's great. She's a really nice lady. Her character was interesting because the kids were suppose to be afraid of her. So, I had to design a really interesting makeup for her because she is a really beautiful woman. She has beautiful skin and really doesn't looks scary at all. So, I really had to do a character makeup on her. I made sure to make her makeup really translucent, because the kids didn't know if she was a ghost, or witch, or what. I often did her hair too. She was just wonderful.

C-H: The project we're most interested in as horror fans is "The X-Files." How did you get the job?

Montesanto-Medcalf: I had worked with one of the producer's, Bernie Caulfield, before. I worked for her for 15 years on and off. Bernie's special was TV movies. So, most of the TV movies I worked on, I worked on with her. She introduced me to one of the executive producers of "X-Files." Well, I was working on a television movie at that time, and I guess he was looking for people to do character makeup and prosthetics. So, I flew to Utah to meet him and Rick Schroeder to do a makeup test. I guess they were a little surprised when they saw me, because as soon as I walked in the room I got the feeling that they thought, "She won't be able to do this." I guess they thought that a man would do it. You know, I'm an ok-looking girl, and here I come in with my red lipstick on, and everything. Well, anyway I did the makeup test and they loved it.

After that, I just went on and did some other things. In fact, I was working on Forces of Nature at the time. So, Bernie called me and said that she was working on "X-Files" and that they really wanted me to do the series. I was kind of like, "You know, I'm doing a movie right now, and I really don't know if I want to do TV." I never really done a television series. So, I told them, "I'm sorry, I'm not available." So, she said, "They really, really want you to do this. They saw some of your film reels and they really, really want you." So, I said, "I'm sorry, but I'm working right now. The only thing you could do is to have someone else start it and then I'll come later." She said, "No, you gotta start it." So, I was talking to some of my friends in Los Angeles and they were saying, "You gotta do it. It's huge. Everyone in Hollywood would love that job." So, I was like, "I'm working on a movie right now, though. I can't just leave." To make a long story short, I ended up getting heat exhaustion while I was in Georgia on the movie, and I had to leave anyway. So, I had to take the job at "X-Files." It was all meant to be I think. I would never leave a movie.

C-H: Absolutely. Did you start out as the department head of "X-Files"?

Montesanto-Medcalf: Yes. I've always been the department hand.

C-H: What would it like to work with Gillian and David?

Montesanto-Medcalf: Great! I would pretty much do all their special makeup. Once in a while, I would do David and Gillian's regular makeup, but anytime either of them got hurt, or any wounds, I did it.

C-H: Cool! Do you have any favorite memories that you could share with us?

Montesanto-Medcalf: First of all, it was the greatest thing to work on. It was so fun. I worked with such a creative force. I was able to do anything I wanted to do. Obviously, I won three Emmys. The three episodes we won for I really loved. I remember the first Emmy we won for, because I thought that the episode would ruin my career. In the episode, we had to make these men 50-80 years old look 25 years younger. It was hard work. So, I walked out on the set and I saw this extreme close-up of one of the people I worked on, and I was like, "Oh my God!" I called Michael Watkins and told him, "You better come down and see if you like this!" Because he DID look younger, but it was… you know… a lot of makeup. When the episode came out with the special filters and everything on it, it looked spectacular. We ended up putting that up for the Emmy and we won.

The second year there was this episode called "Theef." Billy Drago was suppose to play this really creepy guy. It was difficult because he was cast the night before, so the only thing we had to work with was generic prosthetic pieces. I wanted him to be a guy that if you saw him looking in your window, you would be terrified. There was always a lot of pressure on "The X-Files" because a lot of times people were cast at the last minute and you are making the makeup the day of shooting. You had to say "Well, I hope they like it, because this took 3 hours to make." They always did though. When Emmy time comes around, I'm the one that gets to choose the episode. We do 22 a year, so there is always a lot of choices. I felt really confident that "Theef" would get a nomination. Back then there was only one makeup category. Now there is a prosthetic category and a makeup category. Back then, it was all one. I was putting that episode up against huge prosthetic shows, like Star Trek. People were like, "Oh, I don't know, it doesn't have many prosthetics in it." I said, "You know what, it's great makeup. I don't care, I like it. I'll feel good, no matter what happens with it." So, we ended up winning. Of course, everyone agreed with that! The third year we did "Dead Alive" and Matthew Mungle was our makeup lab.

C-H: I talked to him last week, in fact!

Montesanto-Medcalf: I love working with Matt. He's creative. There is no boundaries with him. He came up with the way the skin would fall off the leg. That's something you don't see, even in features. It was a pleasure.

C-H: He's wonderful. I only got to talk to him briefly, but he was fabulous. Actually, he told me that "X-Files" was his most challenging project. Would you agree?

Montesanto-Medcalf: Oh yeah.

C-H: I can see that, just as a viewer. It's so original and you have to be the cutting edge all the time.

Montesanto-Medcalf: They would change things last minute, and they knew we could do it. I remember one night on stage 5 they were filming an episode where a lot of women were killed. We were on Stage 6 doing another episode. We had like 8 makeup artists that night because we had a lot of dead women. So, it's like 2:00 in the morning and we're in the 16th hour. So, they decided to come to me and say, "You know Cheri, I would like this girl on the autopsy table to have an open chest cavity. How long?" "Well, when's the next shot?" "20 minutes." "Oh, ok." So, I had to make something on the spot to put on this girl and make it look good. You get your adrenaline going. Not to mention, I had great people working with me. Every single makeup artist worked their butts off on that show. If you couldn't work hard and fast, that wasn't the place for you. It's not a show that you could just come on and read books most of the day.

C-H: That's a good thing though! So, what attracts you to a particular project?

Montesanto-Medcalf: Once in a while I will take a project if I like the actors. Right now I'm doing a project with Kim Mannars, and it's a western. I LOVE Kim Mannars. Also, I like to work with people who really want to make their picture look good. If it's like "Oh, we really don't care….just come in and…", I don't like working like that. You know, I have a husband and two little boys at home. If I'm going to spend these long hours away from them, I want to be able to come home and say "I did some good work today."

C-H: What would be your dream makeup project?

Montesanto-Medcalf: I think it was probably "X-Files." Of course, I look forward to doing the movie so I can work with all the same people. Probably, though, some kind of period piece that has a lot of…this sounds horrible….a lot of people getting killed in it. (laughs)

C-H: But, that's what you DO though!

Montesanto-Medcalf: I just like doing interesting things. Not that I like specifically to do people getting killed, but I love doing interesting things. You know, I don't like watching a lot of science fiction, but I love working on it because we get to do a lot of crazy makeup. Right now they are doing the Pirates of the Caribbean movie right now. I think that would be a really fun movie to work on because there are pirates, and people getting killed, and everything. I like just going in and being busy all day.

C-H: I agree with you. Now, you told me about the television pilot. Is there anything else up and coming that you're working on?

Montesanto-Medcalf: I am waiting to hear on these two pilots. So, if either one of these get picked up, we'll start filming in January. In my contract, I really can't book myself for the next year. I don't really know. I really believe that things come to you for a reason. There was things that I was offered and I turned down, basically because I was really tired. I kind of think now, "Maybe I SHOULD have done that." Then I think, "Yeah, but then I wouldn't be able to do what I'm doing right now." The western is fun because I get to do a lot of beards… and people getting shot… oh, please don't write like I'm a maniac and a sicko! I've been rambling on about being excited about people getting killed!

C-H: Cheri, we're have a website devoted to our love of horror movies. Trust us, we understand!

Montesanto-Medcalf: It's funny because in real life I'm like the most squeamish person.

C-H: Well, I'll make sure to mention that!

Montesanto-Medcalf: Friday night we had an actress that had to throw up. I just kept looking away, and I was giving her the stuff to throw up on! Kim was just laughing at me because he said, "Yeah, but meanwhile you were killing baby dolls with no problem."

C-H: Don't worry, we won't make you look like a maniac. You can't be any more insane than any of the members of the Classic-Horror staff. I just have one more question for you, Cheri. What advice would you give to young people trying to get into the makeup field?

Montesanto-Medcalf: I would definitely say to go for it. I would tell them to keep an open mind. I use a lot of food in my makeup. It's good to think out of the box. Sometimes makeup people would come in and I give them some dates, and say "This is our brain matter". They might be from the old school and they say, "Brain matter? Shouldn't we be making that in a lab?" I say, "Nope. This is great. It has great texture, they stick, and are good for the skin." When we're done they always say, "Wow, that looks great!" We used DATES. It's good to be creative. Go get your training, and then investigate. I think it looks boring if everyone does the same thing.

C-H: Thank you, Cheri!

Montesanto-Medcalf: I hope I helped you! If there's anything else you need, let me know. You know I've been working late and am probably a little scatterbrained right now.

C-H: Don't worry, I'm in the business. I understand the 20-hour workdays. Bye, Cheri!
Classic-Horror would like to thank Cheri for taking the time to talk to us. She had some great insight into the behind-the-scenes of "The X-Files" and is a very, very talented lady. We wish her the best on her new pilots and her projects to come!