Classic-Horror at Phoenix Comicon 2009
Author
Date
01-22-2009
Comments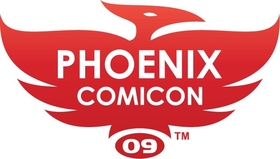 The 2009 Phoenix Comicon is this weekend at the Mesa Convention Center and Classic-Horror.com will be there. First off, we'll be covering the Zombie Walk and Zombie Beauty Pageant tonight during Preview Night. You can also catch editor-in-creep Nate Yapp expounding on all things horror at two panels:
Not Dead Yet: Horror Classics
Friday, January 23rd, 9:30-10:30pm in Palo Verde 2

Guests discuss influential and favorite horror classics.

Panelists: Steve Ringgenberg, Nate Yapp, David Ayers, Tess Fowler, Andrea Beesley-Brown (the Midnite Movie Mamacita), and Jimmy and Bobby Calabrese.
So Scary You Made Me Laugh
Saturday, January 24th, 9:30-10:30pm in Superstition

Guests discuss the horror-comedy genre.

Panelists: Dean Lorey, David Hayes, and Nate Yapp.
I'm looking forward to being at Con, catching up on local Phoenix geekery, seeing old friends, making new ones, and getting to talk about my favorite film genre in the world with some likeminded folks. It's going to be a blast.