Coming Soon: Phoenix Fear Film Festival 2010
Author
Date
01-15-2010
Comments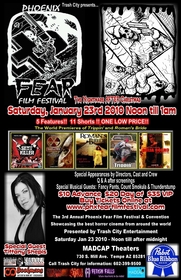 I'm breaking the site's hiatus briefly to help my good friends over at Trash City Entertainment spread the word about the Phoenix Fear Film Festival, taking place January 23rd, 2010 at Madcap Theaters (730 S Mill Ave in Tempe, Arizona). Five features and eleven short films will haunt the screens through the course of the day. Special guests scream queen Tiffany Shepis and slasher star Nick Principe (Chrome Skull in Laid to Rest) will be on hand, as well as musical acts Fancy Pants, Count Smokula, and Thunderstump.
Here's a rundown of the feature films playing during the festival (descriptions provided by the PFFF):
Sexy Killer (Miguel Marti, Spain)

No-one would believe Barbara (Macarena Gómez) is a serial killer. After all, she's more Paris Hilton than Hannibal Lecter. But you'd be wrong - so who better to have around, when the resurrected dead invade the campus where she's a student? Marti and writer Paco Cabezas have created a delightful genre-busting extravaganza, combining slasher flicks, zombie movies, serial killer films and much more. It's clear they adore the genre, and in Barbara have given us one of the most striking (anti-?) heroines of the past decade.

Shellter (Dan Donley, USA)

After Zoey (Cari Sanders) awakens to find herself in an underground shelter; a doctor (Will Tulin) explains that an epidemic has killed most of the population outside. However, the greatest threat to life and sanity may not be outside... Shellter packs a wallop on both visceral and intellectual levels. With its one-set location giving it claustrophobic intensity, Dooley has created a brutal examination, asking how far someone will go in order to survive. The answer is, further than you think. Director in attendance for Q+A.

Roman's Bride (Michael Paul, USA) World Premiere

It's bad enough that Lily lost her husband, Roman, to another woman. But what makes it unbearable is that he and his new love, Angela, now live on the next-door farm to Lily and her fiercely-loyal brother, Amos. As their wedding approaches, Lily's obsession with getting Roman back mutates into seething resentment at the moral corruption she finds, not just in her former husband, but in the rest of their community.

Trippin' (Devi Snively, USA) World Premiere

A group of friends head off for a quite weekend of recreational drug-use in a remote cabin. But when one of their number starts telling stories of the psychotic killer that lore has it lurks in the area, a sense of unease and paranoia begins to grow on the group, and their altered state of consciousness being "enjoyed" begins to be more of a problem than a solution.

Ouija Board (Matt "MJ" Stone, UK)

Five friends head out for a quiet weekend in a country cottage, only to plow into a girl on a remote rural road. Unable to contact authorities, the body is put in the trunk, only for it to have vanished the next morning. Shaken by this, they decide to say nothing, and go on to the cottage. But there, they start to see the girl, blood-spattered and clearly not happy with them; it's decided to hold a seance, to try and find out who she is, and what she wants from them.
Festival tickets and more information are available from the Phoenix Fear Film Festival website.