Cory Glaberson and Reel Art (The Comic-Con Experience 2008 #5)
Author
Date
08-01-2008
Comments
One of the trademarks of Comic-Con is its nostalgia for what has passed. While this mostly manifests in the plethora of comic book vendors dealing in rare and vintage comics, there are some definite highlights for those of a more cinematic persuasion. One such highlight is Reel Art, a dealer in vintage movie and pop culture memorabilia, and our Comic-Con Experience 2008 #5.

Cory Glaberson is a self-proclaimed pop culture enthusiast: cult television, classic movies, vintage comic books – he loves it all. He loves it so much, in fact, that he's made it his business. You can't help but notice the Reel Art booth, since the back of it is lined with posters, many of them beloved classic horror films, which, of course, drew us right in.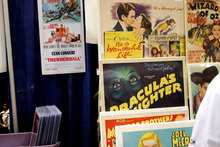 The wall of posters at the Reel Art booth
Flipping through the posters of original, vintage poster art is, alone, an experience. But it's complimented by the wonderful business practice and sensibility shown by Glaberson. As the C-H editors were shuffling through carefully boarded vintage prints, we stumbled across a pristine, full sheet poster of The Invisible Man. Both us stared, open mouthed and longing, at the beautiful, full-color work of art before our eyes settled on the price tag: A hefty $3000 dollars. Which, for a pristine poster that's roughly 80 years old, is pretty reasonable, but, sadly, well out of C-H's professional budget. And then came Cory Glaberson.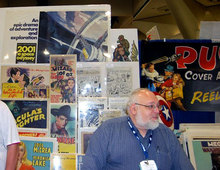 Cory Glaberson at the Reel Art booth
Likely drawn by despairing murmurs, Mr. Glaberson pointed out that, while he didn't have a cheaper, original Invisible Man poster to offer us, he had a large number of reproduction prints. Priced between $25 and $65 dollars, depending on size and availability, the reproductions offered by Reel Art are beautiful works of art, perfect for those who love classic movie posters, but don't love the price tag associated with vintage art. Further, Mr. Glaberson was incredibly helpful in pointing us towards the posters he thought might interest us. I don't know about you, but I have a feeling there will soon be Frankenstein Meets the Wolfman and Cat People posters gracing C-H Headquarters in the near future.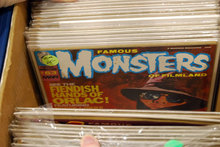 In addition to the cornucopia of posters, both original and reproductions,
Reel Art offers a number of vintage horror magazines, such as Famous
Monsters of Filmland and Cinefantastique.
Cory Glaberson's wares can be found by visiting his website at Reel Art (http://www.reelart.biz).