Cover Art and Details for Icons of Horror: Sam Katzman DVD
Author
Date
08-08-2007
Comments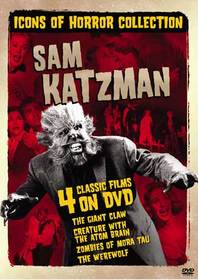 DVD Drive-In has posted the cover art and a lengthy article about Sony's upcoming Icons of Horror: Sam Katzman box set. As previously reported, the box will feature four of Katzman's horror films for Columbia: The Giant Claw, Creature with the Atom Brain, Zombies of Mora Tau, and The Werewolf (1956). The set will also have a nice spread of special features, including:
Chapter Two of Katzman's 1951 serial Mysterious Island
Trailers for all four films
Bonus trailers
1959 Mr. Magoo cartoon: "Terror Faces Magoo"
Midnight Blunders, a rarely-seen two-reel horror-comedy from 1936
Icons of Horror: Sam Katzman is set to be released to stores on October 16th, with a list price of $24.95.