Cthuliana Corner (The Comic-Con Experience 2008 #1)
Author
Date
07-30-2008
Comments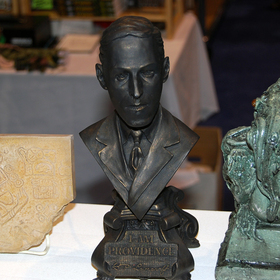 There is nothing, and I mean nothing, that compares to the terrifying awesomeness of Howard Phillips Lovecraft. Oh, sure, there are people who say that he was bland, repetitive, or even cliché – and to them I say, "Bugger off." Fact of the matter is, I like me some tentacles. Which is why The Comic-Con Experience, Feature #1 is the Cthuliana booth, run by The Source Comics and Games.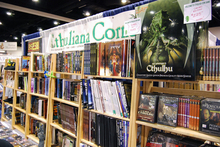 Cthuliana Corner in just part of its glory
I thought I was a big Lovecraft fan, but these folks seriously put me to shame. The sheer magnitude of their book collection alone is enough to make my Lovecraft fangirl heart go a-twitter. They've got every Cthulhu roleplaying book that I know of on the market, in addition to Lovecraft biographies, Lovecraft cultural studies, and, of course, pages upon pages of the original literary works. And that's just Lovecraft. Further examination of the shelves reveals books concerning Lovecraftian peripheral authors, such as August Derleth, and Cthulhu graphic novels.
And that's just the beginning. Strange Lovecraftian items just abound at the Cthuliana Corner booth, ranging from My Little Cthulhu to Miskatonic University paraphernalia. They've got the Arkham Asylum jumpsuits, the Necronomicon Tarot, and enough Elder God plushies to drive a toddler to madness. And the figures – oh the figures. There are replicas of Cthulhu, of the Necronomicon, of H.P. himself.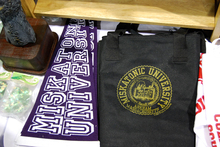 Various Miskatonic University gear
Of particular note this year, and my latest acquisition, is Volume Five in the H.P. Lovecraft Collection. Each DVD in the collection contains several H.P. Lovecraft stories brought to life on film. While these are direct-to-video releases, the quality of these films reflects the love and passion that went into making these discs. You can expect to see reviews of such favorites as Cool Air, or the latest installment, Strange Aeons appearing on Classic-Horror in the near future.
If you want it and H.P. Lovecraft has influenced it, be it paper, DVD, resin or even plush, chances are Cthuliana Corner has it. In fact, they probably have a few things you don't even know you desperately need. I'd tell you how to check them out online, except you can't. While The Source does run a brick and mortar store in Minnesota, you can only find Cthulhiana Corner at various conventions, such as GenCon and Comic-Con. So, if you catch them, make sure you don't pass them up.