"Diary of the Dead" Star Shawn Roberts Interview
Author
Date
02-14-2008
Comments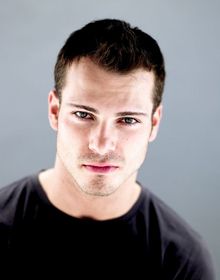 Diary of the Dead, George A. Romero's latest zombie opus, opens in limited release on Friday, February 15th. We managed to catch up with one of the film's stars, Shawn Roberts. No stranger to the Dead series, Roberts previously appeared as the doomed Mike in the first section of Land of the Dead. Now he's back, this time playing a member of a team of filmmakers in the middle of making a zombie movie when the dead really do start rising. The crew hits the road, trying to document the outbreak even as they run for their lives. In his interview, Roberts shows that he's a horror fan as well as a pretty awesome guy.
Classic-Horror: Diary of the Dead is opening up in limited release this Friday [February 15th]. Are you pretty excited right now?

Shawn Roberts: Yeah! It was nice to see the response from the movie goers at TIFF, and Sundance, but now it's finally available to the public and I think they are really going to like this George Romero film!

C-H: Tell us about your character Tony.

Roberts: Well Tony is the kind of guy who doesn't believe it unless he sees it with his own eyes. But in the end, he's got your back no matter what.

C-H: What attracted you to the project?

Roberts: Just the chance to be able to work with George again was enough to attract me to the project! And to be able to be a part of his independent vision... it's [a] whole different thing when you don't have a studio looking over your shoulder. It allows for more freedom and creativity on set.

C-H: What's your favorite memory from making the film?

Roberts: You mean other than than the long, cold nights in the rain? Haha. I would have to say that the best part of making this film were the days we spent at the farm. Blowing stuff up is always a good time!

C-H: You were also in Land of the Dead, which had a much larger budget. Was shooting Diary of the Dead a significantly different experience?

Roberts: The atmosphere during Diary was far more relaxed. Everyone in the crew was just happy to be a part of a George Romero film, and even though it was cold most of the time, and night shoots which are notorious for being tough, every day was a good day.

C-H: Were you a Romero fan before you worked with him on Land of the Dead and Diary of the Dead?

Roberts: This is a man who created a genre! So of course I was a fan. I mean, Night [of the Living Dead] was, and still is one of the best horror films I've ever experienced.

C-H: What's Romero like to work with?

Roberts: He is one of the easiest-going guys I have ever worked with. You can tell by how he conducts a set, that there is no other place that he would rather be when he's at work. He shows the utmost respect to anyone and everyone who is on his set. And always does his best to keep everyone laughing, and having a good time.

C-H: What do you think Diary of the Dead contributes to the Dead series?

Roberts: Diary revitalizes the series, and takes a 21st century look at how an outbreak might be handled. It's relevant to an entire new audience.

C-H: How do you think that horror contributes to cinema overall?

Roberts: Horror allows us the freedom to take our deepest fears as a society, and put them up front and center. There are no boundaries when working the the horror genre, and that's why so many of "cinema's greats" have been a part of it.

C-H: Do you consider yourself a horror film fan? What are a couple of your favorite horror films?

Roberts: I'm a huge fan of the genre! I believe anything that can elicit a chemical response naturally in the body is potentially a good thing. Let's us know we're still alive when we can experience fear. Some of my favorite films would include Army of Darkness, Nightmare on Elm Street, and of course The Shining.

C-H: Would you work with Romero again, either on a Diary sequel or another project?

Roberts: I would jump at the chance to work with George again. He's become family to me, so in one form or another, I hope we can continue to work together until we're both old and grey.

C-H: In keeping with Diary of the Dead's focus on the user-driven modern media, what's one of your favorite YouTube videos?

Roberts: Haha. Well I recently enjoyed "Will It Blend" - the iPhone video, but there are just too many to mention.

C-H: So, what's up next for you? Any plans to return to the horror genre?

Roberts: I'm actually producing a horror script right now, because we gotta do what we can to keep those horror fans happy! Not to mention the fact that I love the genre and wouldn't dream of extracting myself from it.
Classic-Horror would like to thank Shawn Roberts for taking the time to answer our questions. Diary of the Dead opens in limited release on February 15th, 2008. The official Diary MySpace has a list of theaters.