Doomsday Poster Art at SDCC 2007
Author
Date
07-26-2007
Comments
The Rogue Pictures booth on the San Diego Comic-Con exhibition floor showed off four excellent posters for Neil Marshall's upcoming post-apocalyptic sci-fi thriller, Doomsday: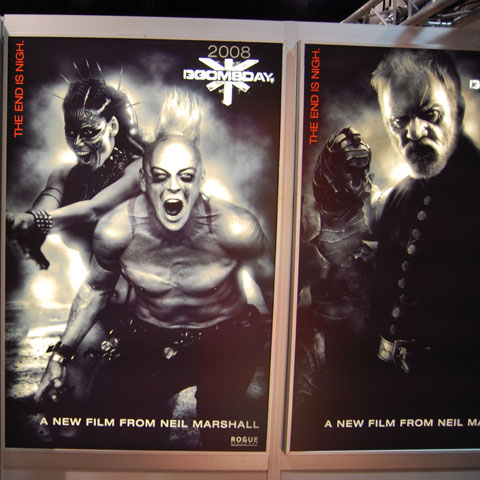 The poster featuring Malcolm McDowell was unfortunately cut-off in this picture. This story will be updated in the future with a more complete shot.
In Doomsday, authorities brutally quarantine a country as it succumbs to fear and chaos when a virus strikes. The literal walling-off works for three decades – until the dreaded Reaper virus violently resurfaces in a major city. An elite group of specialists, captained by Eden Sinclair (Rhona Mitra), is urgently dispatched into the still-quarantined country to retrieve a cure by any means necessary. Shut off from the rest of the world, the unit must battle through a landscape that has become a waking nightmare.