Dreyer's "Vampyr" Coming to Criterion DVD in July
Author
Date
04-18-2008
Comments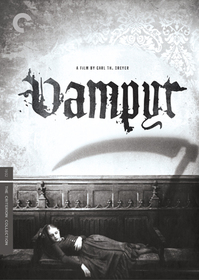 Criterion Collection has announced the upcoming release of a two-disc special edition of Carl Theodor Dreyer's 1932 undead opus Vampyr. The film itself will be presented in its original 1.19:1 aspect ratio (pillarboxed) from a new, restored high-definition transfer of the 1998 restoration done by Martin Koerber and the Cineteca di Bologna. An English-text version of the film will be an option, but purists will still be able to watch it with the original German. Additionally, the English subtitles have been retranslated and improved from past releases of the film. Other features will include:
Audio commentary by film scholar Tony Rayns (Sight & Sound magazine).
A 1966 documentary about Dreyer by Jörgen Roos.
A visual essay by Danish silent film scholar Casper Tyjberg that explores Dreyer's influences in the making of Vampyr.
A 1958 radio broadcast of Dreyer reading an essay about filmmaking.
A booklet featuring new essays by Mark Le Fanu, Kim Newman and Martin Koerber, as well as an archival interview of Vampyr producer and star Nicolas de Gunzburg.
A book containing the original Vampyr screenplay by Dreyer and Christen Jul, as well as the full text of "Carmilla," the Sheridan Le Fanu story that inspired the film.
Vampyr, bearing the Criterion spine number 437, will be available July 22, 2008 for a suggested retail price of $39.95.
Thanks to the fine folks at the Classic Horror Film Board for the heads-up.