DVD Details for "Fox Horror Classics Vol. 2"
Author
Date
06-18-2008
Comments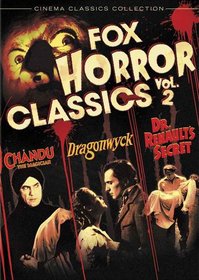 On September 9th, 2008, Fox Home Video will release "Fox Horror Classics, Volume 2", a three-disc box set of classic thrillers featuring Chandu the Magician, Dr. Renault's Secret, and Dragonwyck. The set will have a suggested retail price of $19.98. Each film in the set will have a number of special features, including featurettes, still galleries, and restoration comparisons. A film-by-film breakdown of each title in the set is below:
Chandu the Magician (1934) -- meglomaniac Roxor (Bela Lugosi) has kidnapped inventor Robert Regent to steal his death ray technology. The only man who can save Regent (and the world) is his brother-in-law, the magician Chandu (Edmund Lowe).

Special features:

Commentary by Author Gregory William Mank
Masters of Magic: The World of Chandu featurette
Restoration Comparison
Still Gallery

Dr. Renault's Secret (1942) -- Noel (J. Carroll Naish) assists Dr. Renault (George Zucco) in his mad experiments, but the secret of what he was before he met the doctor may be the maddest tale of all.

Special features:

By the Book: Horror, Suspense, and Literary Inspiration featurette
Restoration Comparison
Trailer
Still Gallery

Dragonwyck (1946) -- Miranda Wells (Gene Tierney) accepts an invitation by her distant relation Nicholas Van Ryn (Vincent Price) to live at his estate, but she soon regrets the decision. Within the walls of Dragonwyck is intrigue and insanity, mystery and murder.

Special features:

A House of Secrets: Exploring Dragonwyck featurette
"Dragonwyck" Radio Show Performed by Vincent Price and Gene Tierney – October 7, 1946
Isolated Score Track
Restoration Comparison
Trailer
Stills Galleries
I've actually hesitated to post this news even though I've known about it for over a week, because although each of these movies are welcome additions to the list of available DVDs, the set itself is a bit of a cheat. Of the three films, I could really only call Dr. Renault's Secret a horror film. Chandu the Magician is more of a sci-fi/fantasy adventure and Dragonwyck is a pretty straightforward Gothic melodrama. Selling them as horror isn't strictly dishonest -- the genre's loosest definitions could accomodate them -- but there have to be other films that are easier fits. Additionally, I'm certain Dragonwyck could sell by itself quite easily.