Ed Gein: Pop Star
Author
Date
10-15-2010
Comments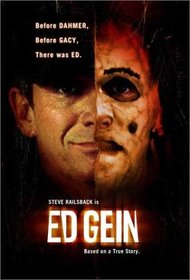 I don't know what makes men like Ed Gein superstars, when all they leave behind them is suffering, loss and madness. Maybe it's that their stories are so bizarrely gothic and so filled with lurid details that no movie could make up. Ironically movies about these creatures will later appear - the weird parts repackaged for general consumption. After this we can relax, take a breath and tell ourselves, "Well heck, it's only a movie." When this happens enough, when we've seen the film, read the books and got the pez dispenser, men like Gein become no more real to us than a Leatherface, a Freddy Krueger or King Kong. Soon they have a separate 'star image' and while they still give most of us the chills, for others they are 'anti-heroes' or symbols of rebellion. Perhaps this is the only way we can make life bearable, by fictionalizing them, making fun and denying anything really ever happened. But it did happen and Gein was real. So were his victims.
Below we document the life of Ed Gein as a man - and as an icon.
August 27, 1906

Ed Gein is born. Soon after his mother, Augusta Gein drags her family out of the city of La Crosse, viewing it as a modern day Sodom. They move to a farm in Plainfield. She is abusive, puritanical and instills in her children a strong fear of sex.

November 1957

While living in Wisconsin (only 35 miles from Plainfield) author Robert Bloch reads about Gein in the local newspaper. "Once I knew about the series of crimes," he later related, "I tried to imagine how he could conceal them, and what would trigger them in the first place."(1) Bloch later turns this into the novel Psycho.

1940

Gein's father dies of a heart attack. An abusive alcoholic, his passing was not mourned by either his wife or his sons Ed and Henry.

1958

Sideshow proprietor Bunny Gibbons buys Ed Gein's car and charges 25 cents for people to see it. He dubs it, "Ed Gein's ghoul car".

May 16, 1944

Ed's brother Henry is found dead from one appears to be a heart attack, yet the back of his head is found to be covered with bruises. During his life Henry had worried Ed was too attached to their mother.

June 16, 1960

Alfred Hitchcock's Psycho is released. Based on Robert Bloch's novel the film stars Anthony Perkins as a shy young man fixated with his mother. It is a sensation, breaking box office records all over the world. The film begins a love affair between Hollywood, cinema audiences and serial killers.

December 29, 1945

Augusta Gein dies from a second stroke. Gein had nursed her fastidiously and her passing leaves him all alone on the farmhouse. He later nailed up her bedroom door, leaving the room untouched.

July 1973

Filming begins on the low budget Texas Chain Saw Massacre. Co-writer/director Tobe Hooper recalls stories about Gein told to him by his Wisconsin relatives as a child. His imagination running away with him, he begins to fantasize about a family of Ed Geins. The movie goes on to gross $30 million in the United States. The tagline for the film reads, "What happened was true."

1947

Gein begins a series of visits to three local cemeteries. There he exhumes the bodies of deceased women who resemble his mother. He uses their bodies for various "medical experiments" inspired by books on witch doctors and Nazi atrocities. He is sometimes accompanied by an old friend known only as Gus.

February 1974

Deranged: Confessions of Necrophile while still fictionalised (here Gein is called Erza Cobb) is none-the-less the closet cinema has yet got to the true story of the Plainfield murders. Its rundown aesthetic and use of location filming adds to the film's sense of reality.

December 1, 1952

Christine Jorgensen hits the headlines as one of the first people to have sex reassignment surgery. Gein is fascinated and devises ways to complete his own gender transformation.

Mid-1970s

Documentarian Errol Morris plans a film on Gein. "I went up to Plainfield, Wisconsin, which is a small farming community, roughly in the middle of Wisconsin, near Wisconsin Rapids and Stevens Point," he remembers. "I told everybody, 'My dream is to go up there and stay at the Bates Motel.'" (2)

1953

15-year-old girl Evelyn Hartley disappears while returning home from babysitting. Later only her blood stained clothes would be found.

August 1984

Ed Gein's obituary appears in the entertainment magazine Variety. It runs next to an obituary of Richard Burton, who died 10 days after Gein on August 5th.

December 8, 1954

Gein murders Mary Hogan. Hogan was a 51-year-old divorcee who operated Hogan's Tavern at Pine Grove. He shoots her in the head with a 32-cailbar revolver, puts her body in his pick up truck and takes her back to the farm.

January 1992

An article appears in the Phoenix New Times about The Ed Gein Fan Club. Run by Foxx Entertainment Enterprises, the club offers fans an official 3-D puff print glow-in-the-dark T-shirt, a button and a bumper sticker all for only for $19.85. "Think about it," laughs club founder Damien Fox "Wearing the skins of an entire woman and dancing in the moonlight? This is great stuff. It really is."(3)

November 16, 1957

Bernice Worden disappears. A trail of dried blood is smeared through the hardware store she used to manage. This is found by her son Frank who checks the receipts and discovers that Ed Gein had been the last customer of the day.

March 1992

Silence of the Lambs wins five Oscars at the Academy Awards, including Best Picture and Best Director for Jonathan Demme. Author of the original novel Thomas Harris had based the character of James 'Buffalo Bill' Gumb on the FBI's case files on Gein.

November 17, 1957

Police head to Gein's farmhouse where they find the body of Bernice Worden decapitated and disemboweled. She is hanging by her heels in the summer house behind the kitchen and is said to have resembled a slaughtered animal.

October 2000

Ed Gein starring Steve Railsback is premiered at the Stiges Film Festival. Its tagline, "Before DAHMER, Before GACY, There was ED," plays on the superstar nature of the serial killer.

November 17, 1957

Police begin to search the house and find various artifacts made from human flesh. Lamp shades made out of skin, a belt of female nipples, a vest made of skin (which Gein would wear) a shoebox containing preserved female genitalia and the faces of nine women mounted on the wall like trophies.

2002

Denver artist Dave Johnson creates a line of 6-inch serial killer action figures that include Gein in the line up. He admits to ABC News that, "it's a pretty shameful thing to do." (4)

November 1957

Police conclude that the bodies of up to 15 women were found mutilated in Gein's home.

November 21, 1957

At his trial in Waushara County Court Gein is judged to be mentally incompetent and sent to the Central State Hospital for the Criminally Insane.

October 2006

The Ed Gein Fan Club is launched on Facebook. It is described as being, for, "anyone who is fascinated, or is an admirer by [sic] Ed Gein".

March 20, 1958

Plans to turn Ed Gein's farmhouse into a museum of horrors are stopped only when the building burns to the ground. Arson is suspected, the local towns folk being understandably keen to eradicate any memory of the atrocities.

March 6, 2007

Ed Gein: The Butcher of Plainfield is released directly to DVD. Jason Voorhees actor Kane Hodder plays Gein.

November 14, 1968

Gein stands trial and is found guilty of first degree murder. Judged insane he sent back to Central State Hospital. Though only convicted of the murder of Mary Hogan, many other women disappeared in Wisconsin not far from the Gein farmhouse. These included Evelyn Hartley and Mary Weckler. There families are left to make sense of tragedy, with seemingly no closure in sight.

January 2, 2010

Horror-comedy Ed Gein: The Musical directed by Steve Russell goes on limited release in the United States.
Qtd in Ellery Queen's Mystery Magazine (March 1976) interviewed by Otto Penzler
Qtd in Eleven-Minute Psychiatrist (Mar 2006) interviewed by James Hughes
Qtd in Phoenix New Times (Feb 1992) interviewed by Dewey Webb
Qtd on ABC News (Mar 2000) interviewed by Bryan Robinson