Elijah Wood Stars in "Maniac" Remake
Author
Date
12-11-2011
Comments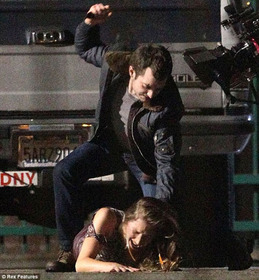 I believe anyone who has read my review of Maniac knows my feelings towards the film. It was and still is a serious, chilling and psychological slasher film, right in the same vein of The Texas Chain Saw Massacre. But it looks like no horror or exploitation film from the 70's and 80's are safe anymore from the remake virus.
On November 4th, 2011, it was announced that Elijah Wood of Lord of the Rings and Sin City fame is set to play Joe Spinell's most infamous role as Frank Zito, a man who is constantly haunted by visions of his own abusive mother, and takes it upon himself to murder and scalp women as a way of gaining revenge.
Honestly, I am completely mixed about this particular remake. On the one hand, you can argue that it's completely unnecessary, and that Wood is miscast as Frank Zito. I mean, who would be scared by the kid from North? Spinell in the original was fat, disgusting, and most of all, highly disturbed. You can say that Wood doesn't have it in himself to pull this off.
But, on the other hand, you can argue that he's going for a different and unique approach with the character. Like Spinell, Wood does have that everyman type of look to his personality, probably even more so. He's the type of guy that you wouldn't suspect of having a psychotic psyche. You clearly would be shocked if you found out that this guy was murdering and scalping women in New York City (or are they switching it to Los Angeles?), all in an attempt to stop his maternal delusions. If that's the case, then I do appreciate Wood possibly going this route instead of coming off as a complete clone of what Joe Spinell was in the original. But again, all bets are in the air for this film.
The movie according to IMDB is set for a release sometime in 2013. I hope that Wood will pay homage to Mr. Spinell while at the same time bring his own demented creativity to the project. You can lock your windows, and you can lock your doors, but I'm not quite certain that there's a maniac on the streets.