"The Birds" and "Rosemary's Baby" in NOT Being Remade Shocker!
Author
Date
06-18-2009
Comments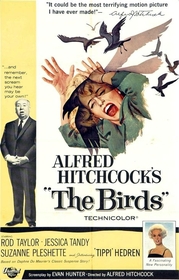 There is some good news of sorts if you were despairing of ever again seeing anything original at the cinema. The HorrorSquad website is reporting that Michael Bay's production company Platinum Dunes has apparently dropped plans to remake Hitchcock's The Birds and Roman Polanski's Rosemary's Baby.
In an interview with Brad Fuller and Andrew Form, the duo behind the recent Friday the 13th and Texas Chainsaw remakes, as well as the upcoming new version of Nightmare on Elm Street, both appeared to suggest that the overwhelmingly negative response on the Internet was a factor
On The Birds remake, which had been slated for a 2011 release with Naomi Watts in the Tippi Hedren role, Fuller is quoted as saying "As you guys know, we lay ourselves out there and get annihilated out there online all day long, and that movie just opens us up to a whole different level of annihilation."
And while the new Rosemary's Baby is not totally dead and buried, he appears to suggest that any fan criticism of that is misdirected, as while a film of some sorts may still go ahead, the script is now called The Sacrifice and is not a straight remake of the original.
Geek Power!