Forrest J Ackerman (1916 - 2008)
Author
Date
12-05-2008
Comments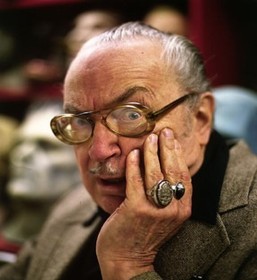 There's no way to do this impersonally, because there's nothing impersonal about the man. Forrest J Ackerman, the pun-lovin' mind behind Famous Monsters of Filmland, our Uncle Forry, died of heart failure yesterday, December 4, 2008, at 11:58 PM. It's not an exaggeration to say that the man defined what it meant to be a horror fan for a whole generation of Famous Monsters readers and he's a legend to newer horror geeks like me. To list the full extent of his contributions to the genre would be foolhardy and I'm not even going to try. Think of this as less of an obituary and more of a unreliable remembrance from a fan who's taking it a little too hard.
I met Forry just once, nearly a year ago. I made a trip out to Los Angeles specifically for the purpose of visiting him at his "Acker-mini-mansion" during his weekly open house. Let me repeat that -- every week, this man opened the doors of his memorabilia-stuffed home to anybody who wanted to stop by, friend or stranger. Every week. For free. How cool is that?
Even at the time, Forry was very frail. He sat in his chair the whole time, legs wrapped in a blanket. I remember that his hand was dry and it felt like it might crumble in my own. But he didn't let that slow him down. Although he was quiet initially, once he began telling stories -- of his first viewing of Frankenstein, of a trip to Germany to read the original script for Metropolis, of other matters wide and wonderful -- he lit up and it seemed that he could not be stopped, not that any of those there would. When I finally had a chance to speak with him, he listened attentively to whatever I was blathering on about (I could not tell you what, although I was probably gushing), only interrupting when he hadn't quite heard what I'd said. I left that day feeling both nostalgic and a little sad that I hadn't grown up in a time when he was a more prevalent force in the lives of horror fans.
Over at the Classic Horror Film Board (no relation to Classic-Horror.com), the thread about Forry's passing contains many lovely tributes to his memory. He will be missed dearly.