Full Details for "Death Proof" DVD
Author
Date
09-04-2007
Comments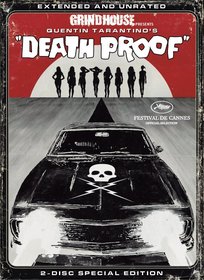 Genius Products and The Weinstein Company have sent us the full specifications for the two-disc special edition of Quentin Tarantino's Death Proof, coming out September 18th, 2007. Death Proof, the second half of the retro double feature Grindhouse, follows a creepy stunt driver whose taste for stalking lovely young ladies gets him into big trouble when he tangles with the wrong gang of badass babes. Their confrontation escalates to an extended mano-a-mano car chase with one of the girls strapped to the hood of a thundering Dodge Challenger.
The set will feature:
The Unrated Extended cut, with nearly thirty minutes of additional footage (including the "missing reel")
Three Dolby 5.1 soundtracks: English, French, and Italian
English and Spanish subtitles
"Finding Quentin's Gals" featurette
"The Guys of Death Proof" featurette
"Kurt Russell as Stuntman Mike" featurette
"Introducing Zoe Bell" featurette
"Quentin's Greatest Collaborator: Editor Sally Menke" featurette
Double Dare fake trailer
International Poster gallery
Suggested retail price for Death Proof is set at $29.95, so expect to pay between $22 and $27 dollars at retail (preorder from Amazon.com
).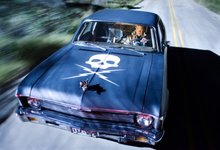 The Death Proof car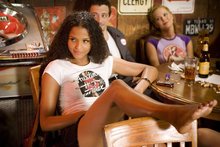 Sydney Tamiia Poitier as Jungle Julia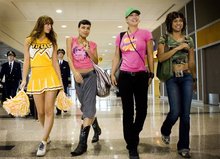 Mary Elizabeth Winstead, Rosario Dawson, Zoe Bell, and Tracie Thoms