"Hostel Part II" DVD Cover Art
Author
Date
08-27-2007
Comments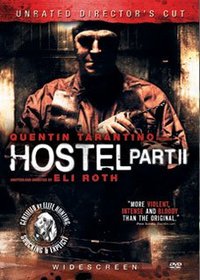 Sony Pictures showed Fangoria.com the cover art for the October 23rd DVD release of Eli Roth's Hostel: Part II. The disc will contain the full, unrated cut of the film. Additionally, it will include the following features:
Commentary by Eli Roth
Commentary by Roth, executive producer Quentin Tarantino, and Gabriel Roth
Commentary by Roth and actors Lauren German, Richard Burgi, and Vera Jordanova
Behind-the-scenes featurette
Effects featurette
Production design featurette
A "blood-and-guts montage"
A Blu-ray edition released the same day will contain all of those special features plus additional "Torture Factory Footage." The suggested retail of the standard DVD is $28.95, while the SRP of the Blu-ray disc is $38.96.