Interview: June Lockhart on "She-Wolf of London"
Author
Date
02-18-2010
Comments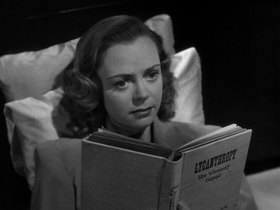 "Would you let me interview you about She-Wolf of London?" I asked the always charming and ebullient June Lockhart.
"Yes!" she answered immediately.
"And, in preparation for the interview, can I get you to watch the movie?"
One Mississippi. Two Mississippi. Three Mississippi. Four Mississippi. Five Mississippi.
"...Yyyyes..." came the 21st-century-to-date's most hesitant acquiescence.
Well, who can blame her? Universal's monster movie makers weren't exactly covering themselves with glory at the end of the studio's legendary 1931-46 cycle of fright flicks, and this tale of "werewolf attacks" in a turn-of-the-century London park is related with minimum novelty or quality. Twenty-year-old Lockhart stars as Phyllis Allenby, the last descendant of an aristocratic family that was once cursed by wolves, and begins to suspect that in her sleep, under the spell of the curse, she rises as a werewolf and terrorizes the foggy park.
The question of quality aside, however, the hoary whodunit rates a footnote in The Big Book of Horror Movie History as the last "monster movie" (sort of) in that legendary 1931-46 series; and June deserves at least a nod for following in Wolf Man Lon Chaney Jr.'s, footsteps (sort of) in this Wolf Woman tale. With the finale of the now-playing Benicio del Toro-Anthony Hopkins The Wolfman indicating that it might be the start of a new Wolf-series, June Lockhart looks back -- hesitantly -- at the end of the old.
June Lockhart: I was hired for She-Wolf of London at a point after I'd left MGM but had not yet gone to Eagle-Lion. I got the part through Jean Yarbrough, the director. I don't remember how I met him, but I had already done a short film for him, it might have been an industrial film or something like that, and then She-Wolf came along and he wanted me for it. What was nice about that movie was that some of the other people in it, like Dennis Hoey, Lloyd Corrigan, Eily Malyon, Sara Haden and Frederic Worlock, were all pals of my family's, so doing the picture was sort of like hanging out with people who were always around the house!
Tom Weaver: Your dad was quite the host?
Lockhart: For all my life growing up, every year, to entertain our dinner guests at Christmas, we [Gene and Katherine Lockhart, and young June] used to do like a concert performance of A Christmas Carol. Funnily enough, when my father and mother said that they were about to do A Christmas Carol as a movie for MGM [in 1938], I said, "Great!," and when they said, "They also want you to be in it," I said, "Oooh, that's nice" -- 'cause I'd already been in it, every year, all my life, at home [laughs]! In our Christmas Carol presentations, Leo G. Carroll every year did Scrooge -- and then of course he played Marley's Ghost in the MGM movie. Doris Lloyd, Walter Kingsford, all these people who were my parents' friends from the British colony, were always there at our house.
So, as I say, several of the actors in She-Wolf were family friends. They were good actors, of course they were prepared, they were English-trained, and one of the reasons we could shoot She-Wolf so quickly was because we knew how to come in and do it in one take. You'd come on the set, walk into the scene, hit your mark, stop, play your dialogue, Jean Yarbrough would yell "Cut!," and you'd go on to the next scene. We shot the whole thing in 12 fat days! The producer, Ben Pivar, was a nice man who was always very encouraging. He liked us, 'cause we were on schedule!
I've just re-watched the movie, so I have a lot of notes for you. Also, if you can believe this, I have copies of the shooting schedule, the breakdown of the amount of money the movie cost, the number of shooting days, everything. Information that I bet you don't usually get from an interviewee!
Weaver: Where did you get all that paperwork?
Lockhart: It was sent to me quite a while ago, and I've had it tucked away. The other day I came across it and I thought, "Oh, wait until Tom hears this!" It's really quite remarkable to see how many pages a day we shot, what time we broke for lunch and were dismissed and so on! Would you believe, the total cost of the film was $134,890 [laughs]? We started shooting on 12/8/45, and we finished shooting on 12/21/45. My salary was $1000.
Weaver: A thousand a week, or for the whole shebang?
Lockhart: For the whole thing. Sara Haden got $2167, Forrester Harvey got $750--
Weaver: No he didn't. He died [on December 14, 1945] before he could play his part, and he was replaced by Lloyd Corrigan.
Lockhart: Oh, is that what happened? Then this list of players and their salaries also mentions Una O'Connor, and I don't remember her being in it at all.
Weaver: She was supposed to play the part that eventually went to Eily Malyon.
Lockhart: I see! Jan Wiley and Dennis Hoey also got $1000, and Don Porter got $2000.
Weaver: So Sara Haden was the big moneymaker of the bunch!
Lockhart: Yes! But we don't know what film she had come off of. She may have just finished a big film. Amidst this paperwork, I have a copy of my contract, which is just one of those stock contracts. I see that we [June and her parents] were living on Rexford Drive in Beverly Hills when I did the movie. And here's something delicious: There is a letter from the Breen Office, addressed to Mr. Ben Pivar, the producer, and it says:
"We have read the script dated November 19, 1945, for your proposed production of She-Wolf of London and we're happy to report that the basic story seems to comply with the provisions of the Production Code. We call your attention to the following details: On page 37, we assume that there will be no unacceptable exposure of Phyllis' person where she is shown in her nightgown. On page 52, in Hannah's speech at the bottom of the page, please delete or change the word 'ungodly.' On page 63: Unacceptable gruesomeness should be avoided as to Latham's appearance [in the scene where he's killed by the She-Wolf]. This applies also to page 82, scene 274, as to Dwight [also attacked by the She-Wolf]. Page 99: In Martha's speech, it would be well to eliminate the words 'Your wrists,' since this suggests a definite method of suicide which is definitely questionable on the screen. Our final judgment, as you know, will be based on our review of the finished picture. Cordially yours, Joseph I. Breen."
Isn't that pathetic [laughs]? It shows how much movies have changed.
Weaver: The '30s and '40s were a time when a number of the people who did horror films--Karloff, Lugosi, Lon Chaney, Jr., and so on--sometimes got stuck in horror films. Did you have any hesitation whatsoever about taking She-Wolf?
Lockhart: No. It was just a part, that's all. Incidentally, at that time, Universal wanted me to be under contract and I did a screen test for them. I did not go under contract to Universal; I don't remember whether my father's fine hand was in that, whether he perhaps felt that a Universal contract was not the right way to go. He was always looking out for me. I remember seeing the screen test and thinking it was not very good. The makeup was like something Lana Turner would wear; they tried to make me look very grown-up and sophisticated and glamorous, which was not what I was, at all, at that time. I was 20, a very young 20. Quite inexperienced, not wise in the ways of the world. And at the time, my whole concentration, my life, was sports. Being up at Lake Arrowhead in my speedboat, and water skiing, swimming, tennis and all that was going on at that time.
Weaver: I didn't know anything about that side of you!
Lockhart: Really? Oh, how come we never got into that [laughs]? Any time I was working, all I wanted to do was finish the show so I could go to Lake Arrowhead. My family had a house up there from 1939 'til 1965, and whenever Daddy wasn't working and whenever I wasn't working, we spent allll our time up there. We went up there every weekend, we went up every holiday, we were involved in the community--it was very, very important to us. With Dan Dailey and "Mac" McKenzie, the man who ran the water ski school, I was the founder of the Lake Arrowhead Water Ski Club, which still exists. I was in charge of publicity for it and I was the secretary. I'm up at Lake Arrowhead a great deal these days still. I don't water ski any more [laughs], and I sold my boat, but that was such a genuine part of our lives that, as far as I was concerned, my career was sort of a secondary thing to being on the tennis team at West Lake School for Girls, secondary to being on the swimming team at West Lake, secondary to the water skiing and all the other activities at the lake. Even when I was in For Love or Money [in 1947-48], the play in which I made my Broadway debut and won my Tony, the social activity and sports were still so important to me. The producers wanted me to go on the road and tour the country with For Love or Money after we closed in New York, and, no, I said, I wanted to go back to Lake Arrowhead. They could not understand at all what the draw was for me, to leave a Broadway production in which I was the star, to go back to Lake Arrowhead. But I'd already done For Love or Money for seven or eight months and that was enough, so: "I want to go back to Lake Arrowhead!" Even with She-Wolf, I'm sure that as soon as it wrapped, I probably got in my car and drove to Lake Arrowhead to have Christmas up there in '45. In later life, that house became my parents' main home.
Incidentally, it's hard to believe, watching the performance I give in She-Wolf, that I'd win a Tony in two years [laughs]! But the part in For Love or Money was just right and it was comedy.
Weaver: I know you have a fun story about the last day of shooting She-Wolf that you like to tell.
Lockhart: On the very last day of the picture, which was the 21st of December, there was a scene in which Don Porter and I were sitting in front of a rear-projection screen in a horse and buggy. It was the last scene of the day on the last day of the picture. We played the scene, the director Jean Yarbrough said "Cut!" and before Don and I could get out of the buggy, the camera was shut off, the set was shut down, the lights were off, everybody was gone, 'cause they were off to their Christmas drinking parties! Don turned around to help me down out of the carriage, we looked around and we were alone! And as we walked to our dressing rooms outside the process stage, the whole area was vacant. Everybody had gone.
Weaver: Sounds like an evacuation!
Lockhart: "Evacuation" is the word! They opened the huge process stage door and, bam, everybody was gone. Don and I would run into each other years later, as he went on to play Gidget's [Sally Field] father on TV and so many other roles, and he and I laughed about that incident every time we saw each other.
Weaver: What else came back to you as you watched the movie today?
Lockhart: Well, one thing I noticed was that even the set decorations were sparse. In the house, there were two or three plants in the background which seemed to be moved constantly. First you'd see them in the hallway and then in the dining room and then the bedroom. They even had one plant which was a very Southern kind of plant, one you might find in California or Florida -- but not in London! That one also moved around, and in the same pot, from one sideboard to another! Oh, and I remember the fog effects in the park scenes. In those days, [moviemakers made fog] with smoke pots, and it was oil-based smoke. It was terrible on your lungs, all this oil floating in mid-air. I had no scene where I was out walking in it, but I went on the park set when they were shooting and [she coughs loudly]. Everybody was very uncomfortable with it. Another thing that amused me was seeing that the ring on my little finger was my West Lake School senior ring. It has a crest on it, so it was appropriate as part of the wardrobe.
Weaver: And Jean Yarbrough's direction?
Lockhart: Jean Yarbrough was a very nice man, I liked him a lot, and he was a good director. But -- on She-Wolf, the staging was so unimaginative. There was no money or time for any inventive staging. The shots were full-on, everybody goes in and faces each other in profile and recites the lines. The only variation was the scene where Aunt Martha [Haden] goes berserk. As she enters my bedroom to drug me with yet more milk, all of a sudden the camera was tilted, and it stayed tilted as she did her "roving eyeball" shot. That must have been very arty at the time! And the acting... it was sort of like a school play. Everybody seemed somnambulistic!
Weaver: A moment ago, when you were talking about Lake Arrowhead and your speedboat and so on, I was picturing you as the whiny shrinking violet in She-Wolf and thinking to myself, "Hard to believe it's the same person!"
Lockhart: In real life, I was a very animated personality -- but not in She-Wolf! Everybody in it performed in the same way. And then Martin Kosleck was in it, this German actor playing a character named Dwight Severn. What name could be more English than that? I'm sure Martin Kosleck got that job because he could play a suspect! Sara Haden was a wonderful actress. When she went cuckoo, it was very much Mrs. Danvers in Rebecca [1940]. Oh, I "loved" the posture of the She-Wolf, when she went out to kill people in the park. It was straight-up and walking right ahead, and there was no skulking or hiding behind bushes. It was as though Sara had already been sent home for the day and a stand-in was doing the walk through the park -- it had that "look" to it. There was no characterization as the She-Wolf walked through.
Weaver: I guess I saw She-Wolf for the first time at the right age, because to me at that time, the She-Wolf placidly gliding along, looking like the "Little Red Riding Hood" Wolf in Grandma's clothes -- it struck me as a little creepy.
Lockhart: Oh, I never made that connection! By the way, I once saw a still of the She-Wolf attacking Lloyd Corrigan in the park with a weapon, and whoever it is in the She-Wolf's clothing, it ain't no lady! The hand holding the weapon is the hairy hand of a man. So much for continuity!
Weaver: Oh, I never noticed!
Lockhart: It is this huge man's hand and a big wrist and a big muscle in the forearm. Maybe it was a prop man who was available in the afternoon and they just put the costume on him. It's a workman's hand. The sleeve's up a little bit and you can see this huge muscle and the big thumb. That made me laugh.
Getting back to the other people in the cast... Eily Malyon was just a dear. I don't know whether I worked with her in anything else, but I was aware of her career, and also Sara Haden's. They were nice character actresses. Incidentally, I've always thought of myself as a character actress. I had great respect for character actors and actresses, being raised in a home with two character actors, and I thought that was the best thing to be. I used to say, when I was in my 20s, that I never felt like an ingénue. I'd say, "I am a character actress, and will probably be working when I'm in my eighties." Well, my God, here we are and I am doing it [laughs]!
Weaver: Don Porter? Jan Wiley?
Lockhart: Jan Wiley was a nice girl. Limited actress. But by the looks of She-Wolf, you certainly could have said the same thing of me!
Weaver: [laughs] You always say what I'm thinking but wouldn't dare say!
Lockhart: Well, that's really true! Even Don Porter was not too sterling in that; it was a very bland performance. He became far looser, and a much more enjoyable person to watch perform, as his career progressed. We all got our chops later in life, I think.
Weaver: Nobody really works at being English in the thing.
Lockhart: Well, I certainly tried. I had English parents, so I'm pretty English in it, if you listen. Being raised in an English household, I had quite an English accent until I was maybe 16 or so. I can remember one of the Irish nuns at Immaculate Heart saying, "Why do you sound so British? Are you pro-English?" Of course I was, raised in that household! But Don Porter didn't try to sound English, and Jan Wiley didn't either. The other ladies [Haden and Malyon] did. Dennis Hoey was a wonderful actor, and always brought a great presence to any character that he played. He had an English panache about him. His family and my family were quite good friends. Again, many of these people were pals of my father's. So many English actors would come over to our house, it was filled with wonderful, talented people all the time, shooting pool and playing charades and so on. It was really quite remarkable.
My father, before we got into World War II, single-handedly tried to save the British from the Huns: Every Sunday night there was the Gene Lockhart Revue which was presented at the Hawthorne School on Rexford Drive in Beverly Hills. It was like London music hall with music and singing and dancing and comedy sketches. I was involved, handing out programs out front, and my mother was in it, and all these actors, at one time or another, were in those sketches. My father created a group called the Worcestershire Wassailers, six or seven singers, all English actors, very good voices. The men were dressed up with pince-nez and top hat; the ladies had ruching around their necks and they wore the costumes of the early 1900s; and they sang songs my father had written, one of which was called "Midsummer's Day." Many, many people from the movie colony would come on Sunday nights to see this terribly funny revue that my father was producing, and one time, someone from the production of Mrs. Miniver [1942] came and heard the Worcestershire Wassailers and he said, "I want these people in Mrs. Miniver, singing in the background." There was no problem about that, because all the singers were members already of the Screen Actors Guild [Gene Byram, Virginia Bassett, Aileen Carlyle, Irene Denny, Herbert Evans, Eula Morgan, Vernon Steele, Vivie Steele, Marek Windheim and Tudor Williams]. So the Worcestershire Wassailers sing "Midsummer's Day" in Mrs. Miniver and, Tom, the lyrics are as naughty as can be! Daddy always figured that the director and the producers must never have listened to the words of the song, and certain the Breen Office never did [laughs]. To the best of my memory, these are the lyrics:
How glorious it is on a midsummer's day,
To fa la la la la la la la to LAY,
In the down, derry derry down, derry derry down, derry down
With a HAY nonny nonny, HAY nonny nonny, HAY nonny HAY.
With a good fa la la la la, good fa la la la la, fa la la LAY,
How glorious it is on a midsummer's day!
So it's all about having a good lay in the hay on a midsummer's day [laughs]! This was not done in movies at that time, and yet it's in Mrs. Miniver. Then the next song they sing in Mrs. Miniver was "The Cuckoo Song," and I don't know all the lyrics, but they were certainly not as suggestive as having a lay in the hay on a midsummer's day! It was really a big jolly!
Weaver: It sounds almost as funny as some of the stuff in She-Wolf!
Lockhart: Oh, speaking of that: There's nothing worse than trying to do a scene that you cannot get through because you and the other actor are laughing. Well, She-Wolf had a scene like that, and I was reminded of it as I watched today: For some reason, I get out of bed, in my robe, and I pick up a package with string around it. I don't know what was supposed to be in it, or why I had it, but I carry it across the hall and knock on Jan Wiley's door. She opens the door -- and we could not get through the scene. Oh, we tried so hard to be professional, and all the scene was, was me saying, "May I come in?" and Jan responding--the dialogue was very, very simple. I guess it was the fact that we were just so fatigued, shooting this rather late at night after working all day. My memory is that it was one of the last scenes of the day, and therefore everybody wanted to go home, and we two ladies simply couldn't get it together. Those are bad moments! You bite the inside of your cheek and try very hard, and if that doesn't work, finally you decide you'll do the scene without making eye contact. But that's worse, because then you're just staring at the side of her ear, and you go off and laugh again!
Weaver: I'm sure the kind of dialogue you had in the picture didn't help.
Lockhart: Yes, the dialogue was stilted! I don't think that anybody went over the script after it was first written, to make the dialogue more natural or pleasing. And these were all good performers, this was not a cast of people who didn't know what they were doing. Except probably me [laughs]!
Weaver: Did you ever like horror pictures?
Lockhart: I had no particular affinity for them as entertainment. The first horror movie I ever saw was the original Frankenstein [1931], when I was about six. I believe we were still living in Flushing, New York. A friend took her daughter and me to see it, and I was terrified. The audience was all screaming and yelling! I had removed my coat, and I was so frightened, I watched the movie through the empty sleeve of the coat, as though it was a telescope. When something horrible happened, I just simply dropped the sleeve. I remember that vividly. When I got home and said Frankenstein was the movie we went to see, my mother was very upset -- as she should have been. It was really ridiculous, taking a kid that young to that movie. It was a terrible experience, so maybe that sort of soured me on the light and joy of most horror movies!
Weaver: You know what's funny about that? You had a terrible time with Frankenstein, practically the first release in the classic Universal monster movie cycle. And then 15 years later, the star of the last release is you!
Lockhart: [laughs] Was She-Wolf the last one? I finished it off? Oh, I love it!
Weaver: In the scene where you're accost by the big barking dog, I assume it was well trained and you had nothing to worry about.
Lockhart: Oh, of course. They were wonderful dogs, beautifully trained. There is also a scene in the movie where I'm on a horse, and I am not a horsewoman. The wrangler held the horse, and I got on and did the scene sitting sidesaddle. There was a fabulous stuntwoman who did a lot of doubling for me over the years, Helen Thurston--she could do anything. I believe it was she was doubled me in the horse race scene, riding sidesaddle at a great speed. That area is probably now all housing, or lots where they're selling RVs.
Weaver: What did you think of your She-Wolf wardrobe?
Lockhart: It was just off the rack of the wardrobe department at Universal. They took the costumes in or let 'em out, and then they were fine. And the wardrobe "did not expose any of my person" [laughs] -- isn't that a wonderful, dear Breen Office phrase?
Weaver: The Universal screen test you mentioned... was that before, during or after She-Wolf?
Lockhart: I don't recall. And as I mentioned, it wasn't very good. One screen test that I was pleased with was the one I did for The Uninvited [1944], for the lead -- for "the Gail Russell part." I was sitting in the makeup room, getting my makeup done for the Uninvited screen test, when the casting director for Paramount, whose name I've forgotten, came in with Gail Russell in tow. The two of them must have had a very personal attachment, for him to bring her to makeup, because that simply wasn't done. An agent might bring an actress in, or the actress might be sent over to makeup for a test -- but here it was the casting man showing up to introduce her to the makeup people. As innocent and naïve as I was at the moment -- I was very young [17] -- it registered with me that that was a very unusual thing. Then I did the test, which was directed by a very sympathetic director. That night at home, at dinner, I mentioned Gail Russell's arrival with the casting director to Mommy and Daddy, and a hush fell over the table. I hoped I would get the part, 'cause it was such an interesting script, and it was a nice acting job that I did on the test, but Gail got it. Now, I am not suggesting anything, except that I knew that she was the casting man's pick for the movie. Anyway, as my father always said, "Enjoy the moment of the audition or the interview or the test, because if it's yours, you've got it before you leave the driveway." With that attitude, there's no "Oh, gee, I hope I get this job." You're doing it for the moment, for the experience of the audition.
Weaver: Having just watched She-Wolf again, what are the scenes where you're happy with what you did?
Lockhart: [Five-second pause] Nothing comes to mind! [Laughs] I think I only smile twice in the movie. I guess it would have been those shots.
Weaver: Well, what's your worst scene in the movie?
Lockhart: There again, I'm not sure, but it is a less-than-fine performance. But, y'know, I don't know what else I could have done with it at the time.
Weaver: If you could go back in time to the set of She-Wolf and whisper in the ear of 20-year-old June Lockhart, what would you tell her to do differently?
Lockhart: [Another pause]
Weaver: Say "no" to the movie?
Lockhart: [laughs] That's YOUR line! No, I would tell her to try to give a little more variety in the reading of the lines. I think we probably ALL would have liked to have done that.
Weaver: Did you see it in the movies when it came out?
Lockhart: I went to a screening of it somewhere. I was with my parents.
Weaver: And did a hush fall over the table again?
Lockhart: [laughs] I don't remember. Daddy always used to leave me notes about performances. On She-Wolf, he may have felt that I just did the best I could with it, and that was it. I'm amazed that some people tell me they think it was good. People say, "Oh, it was my favorite, oh yes!" -- and truly, it was not good [laughs]!
Weaver: Any interest in the new The Wolfman that's coming out on Friday?
Lockhart: [instantly] No. But it's probably going to be a marvelous film. Having been shot in England, it should have some more authenticity than She-Wolf of London. But, as I say, people tell me they like She-Wolf still today -- 65 years later! You don't expect something that was just a job to have that longevity. Certainly that's how it is with Lassie. I do a lot of personal appearances, and people are so delighted [to meet one of the stars of Lassie]. It's very pleasing that they're so delighted, but Lassie was just a job. As was Lost in Space. We had no idea that they would become iconic. And apparently, for some people, She-Wolf has become iconic also. Well, watching it today, the thought that crossed my mind was, I don't know how I ever had a career after that [laughs]! And I do appreciate the fans of horror films who have enjoyed it all these many years.
Classic-Horror.com would like to thank June Lockhart for taking the time to discuss She-Wolf of London. We also thank Tom Weaver for his contribution to the website.