It's Nothing Like "Angel," We Swear: CBS's New Vamp Detective Show "Moonlight"
He sleeps in a freezer, not a coffin. He gets his blood from his dealer, a guy who works at a blood bank. He doesn't burst into flames in the sun and he can't be killed with a stake through the heart. He likes golf, Steve McQueen movies, classic Star Trek and Miles Davis. That's the modern vampire as seen on the new fall show Moonlight (airing Fridays on CBS at 9PM EST/PST, starting September 28th).
Mick St. John, played by Alex O'Loughlin, is the latest vampire detective to hit primetime TV. It's a subgenre that most people equate with Joss Whedon's prematurely cancelled Angel. Executive producer Joel Silver says that Moonlight will not be Angel 2.0. "It's just a different world," he says. "There are no demons, there are no other entities. It's a world where there are vampires, and they're around, and they're living among us.
Besides the good-guy vampire hero and the Los Angeles setting, Moonlight has one other thing in common with Angel - writer/producer David Greenwalt, who served as Moonlight's showrunner until just recently. Although Greenwalt had to leave the show for health reasons, he's already left his mark. "He worked really hard on the arc of the series," says Silver. "He really helped us focus and get started." Actor Brian J. White agrees that Greenwalt is the guy you want for your vampire detective show. "David Greenwalt is right on the pulse with what the next permutation or evolution of that kind of series is," says White. Hopefully new showrunner Chip Johannessen (Dark Angel, Millennium) will continue where Greenwalt left off.
Moonlight has undergone a number of changes since the series was picked up by CBS. Of the original cast, O'Loughlin is the only one remaining. "A lot of times you do a pilot, and you know if the concept's working and you know if the pieces aren't working. And I think they knew right away they had a star in Alex and they just rebuilt around him," says White, who feels the reworking has created a very strong show. "There's no weak points, there's nothing that feels forced. There's laughs, there's tears, there's real emotions, there's real relationships and it's going to be an exciting project to work on."
British actress Sophia Myles, who has taken over the role of Beth Turner, says, "It's a strange. I didn't realize Hollywood worked that way - that sometimes it can be quite so brutal. And obviously none of us set out to take anyone's jobs at all."
Myles didn't even audition for the part. "Joel Silver wrote me a letter," she says. "For quite a while I'd said 'no' to American TV just because I didn't want to be away from England - my family's there, my friends, everything - my life's there. But as an actress, you have to go where the work is. And I think American television is almost of a higher quality than a lot of movies that are out there now. Back ten years ago, it was like, [disparaging voice] 'oh, you're doing TV'? Now it's enormously credible."
Beth is a crime reporter for an Internet news site. "She's an L.A. girl. Hence all this fake," she gestures at her long blonde hair and laughs. "They gave me all these extensions. [Executive producer] Joel Silver turned up on the set and he asked, 'How would you feel about having your hair changed?' 'Of course, Mr. Silver. Anything you say, Mr. Silver.' I was taken to this very expensive Beverly Hills salon last weekend. I was like a scruffy dog going into a dog parlor, and suddenly when they finished I was all clean. I've had the whole Hollywood treatment. Very exciting."
"She goes to the crime scenes, really hard-hitting kind of dangerous stuff - and then she does live feeds to an Internet news site called Buzzwire News," Myles says. It's at one of these crime scenes where she encounters Mick. "She meets him in the first episode at the scene of a really horrific crime. She thinks she knows him, or isn't quite sure - there's some kind of connection." The audience will find out that connection in the first episode.
"I think that what will happen is that they'll become a kind of Mulder and Scully type - a working partnership," Myles says of Mick and Beth. Although Mick falls for Beth, they won't be hooking up together anytime soon. "I think the minute that those two characters get together, the show is over. In my opinion, anyway. You've got to want every episode - you've got to go 'ooh, ooh, are they going there?'" Beth won't know he's a vampire at the start. "I think you're going to want to watch them fall in love with each other and it's going to get messy. Complicated. Really complicated."
At the beginning of the series, Beth is involved with Lt. Carl Davis, played by Brian J. White. "I'm her source in the police department for all the information, so she can always get the inside scoop," White says. "All these crimes are now happening that involve the vampire folklore and here we are, trying to solve them together."
Another romantic wild card is Mick's ex-wife, Coraline (Shannyn Sossamon), the woman who turned him into a vampire on their wedding night. "She's incredibly beautiful, very seductive - she reappears throughout," says Myles.
"She's not a good person," Silver says of Coraline. "She hasn't been a good person for a looong time."
Mick has cut ties with Coraline, but his best friend is vampire Josef, played by Jason Dohring. "My guy's always trying to pull him back into the fold," Dohring says. "He's 400 years old, a vampire, has a penthouse in Century City. He has like, concubines all around who he drinks from whenever he wants, billions of dollars, a hedge fund trader, which I had no idea what that was, so, apparently, you have a lot of peoples' money and you can do what you please with it with very little risk - uh, of them suing you. High risk of the investments of it."
"Jason is such a strong actor. He's so funny and just wicked as Alex's best friend," says White. Will Josef kill people? "Yeah, he's a bad guy. A very bad guy."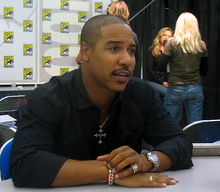 A bad guy? "Yeah, what a surprise," laughs Dohring, best known as bad boy Logan Echolls on Veronica Mars. "He's similar to Logan, dude. He's got, you know, billions of dollars instead of millions - you know, what the hell is the difference when you have millions or billions? I think there is an element of command with this character, so that's going to be an interesting part of it. Logan had similar qualities, you know, but it is a bit different. It's so cool, bro. I think it's going to be awesome."
"You get to see both sides," says White. "But our protagonist is Alex. So we're definitely putting vampires and vampire mythology in a positive light. There are good and evil in every culture and subculture and I like that. I think there's always two sides to everything."
"It gets pretty dark. It gets intelligently dark. I mean, when they touch on the mythology or they explore the mythology, they really get in there and talk about why people do things. In this first episode, we explore the dark side of a fanatic - a fanatical professor who crosses the line a few times. I think that's going to be what's interesting about the show," White says. " It's incredibly well-written and it's effortlessly funny. And the way it's shot - it's heavily stylized, it's like watching a film. I think it can find an easy fan base because there's something for everybody. Whether you're just purely into the mythology or purely following an actor that you like on the show, once you've arrived there, I think you're going to be interested."