Jeffrey Combs Interview
Author
Date
10-14-2007
Comments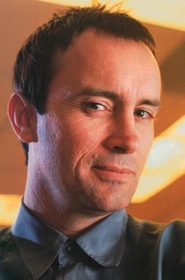 You probably know Jeffrey Combs best for his role as mad scientist Herbert West in Stuart Gordon's cult classic Re-Animator, but the actor has brought so many more great performances to the genre. In July, at San Diego Comic-Con International, he sat down with us to rap about his latest -- reprising the part of Dr. Vannacutt from 1999's House on Haunted Hill for a new, direct-to-video sequel Return to House on Haunted Hill, being released on October 16th, 2007.
Classic-Horror.com: Tell us a little bit about your character [in Return to House on Haunted Hill]. We saw him in the first film…

Jeffrey Combs: Vannacutt is back… Vannacutt is a scientist from the 20s. We do find out in this one that at one point, he wasn't such a bad guy. Brilliant scientist, Nobel Prize winner, and then something went terribly dark.

C-H: So we're getting a lot more back-story in this one.

Combs: Yeah, a little bit of that. And you see a little bit of me working in my office and performing yet another operation and that sort of stuff. But still he's basically kind of the presence that he always was.

C-H: Obviously, there's not a lot of speaking for Dr. Vannacutt, at least not in the last one…

Combs: There's not in this one either.

C-H: Not in this one either! What's it like doing a role without speaking lines?

Combs: It's harder, actually, because you sort of have to personify everything without any, mm… help. So it's a little bit difficult.

C-H: How does this compare to some of the other roles you've done in the past? You found it challenging? You liked it more? You liked it less?

Combs: Every role has its own challenge, some not as large as others. This one… I always like playing things that are period. It intrigues me. This guy is from the 20s, 30s, with his little David Niven moustache. I like that. It's kind of harkens back to another era. [You have to] sort of trying to convey that naturally while everybody around you is contemporary and putting a modern spin on things.

C-H: This is obviously another horror film. You've done lots of them.

Combs: I've done lots of them!

C-H: We like horror films here, too.

Combs: Thank you.

C-H: What do you think about the value of horror films in contemporary culture?

Combs: Just like any other genre, I think that when it's done well and reflects, either obliquely or right up front, something that's going on in our society or fears that are in the general atmosphere, I think that they are, y'know, as high an art as anything else can be. But they can also be really dumb and crass and exploitative in the worst sense of that word. Nothing bothers me more than a horror movie that is unmotivated and just for shock without any sort of reasoning behind it, it's just sort of a series of crap. That doesn't really interest me. Not to say I may not have been in one of those, or two or three of them. There's only so much I can control. [Horror] has a potential to be great.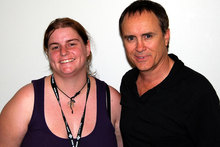 Classic-Horror reporter Julia Merriam and Jeffrey Combs
C-H: There's a lot of sequels coming out. People are making sequels just to be sequels. What do you think about Return to House on Haunted Hill?

Combs: You know, I watched it on the way down here. I had a little DVD player and I put my headphones on. I was really, really pleasantly surprised. It is really beautiful. It's really well shot, wonderfully edited, has a great pace to it. Wonderful cast, really strong all the way, there's no weakness. It has this nice, sort of unpushed humor to it. And it's scary and creepy and very much, I think, in the tone of the first one. It doesn't have the premise of "If you live through the night, you get a million dollars," or in Vincent Price's version, ten thousand dollars. But it has it's own theme that's running through it, like what makes this house do this? What is it? You come to find out, it's more than Vannacutt, which is kind of a nice thing. So I'm very proud of it. It really looks great.

C-H: When you were watching it, were you watching the straight-through [version, as opposed to the "choose your own adventure" branching version]…

Combs: Yeah, that's all I could do. That's what they gave me. They even invited me to go to a screening at Warner Bros., which I couldn't make, earlier in the week, but they would've just run the same thing that I just saw. It would've looked better and had better sound, because it was in a screening room, but it wouldn't've been a different version.

C-H: Now just a real generic question, not even involved with the project, but we're down to one more…

Combs: What's my favorite food?

C-H: (laughs) No, not what your favorite food is. Who was your biggest actor influence? Your favorite classic horror actor?

Combs: Classic horror actor… Well, it'd probably be Vincent Price. Christopher Lee, Peter Cushing, those guys are pretty awesome. Boris Karloff. I remember when I was a kid, seeing [Dr. Terror's House of Horrors] where these people get on a train and they're in a train car with [Peter Cushing] and they each proceed to tell their story as they're on their journey. And the movie goes off and tells that guy's story and that guy's… And they're all sort of fantastical tales. And I remember that [Peter Cushing] gets off at the end of the movie, gets off the train and starts to walk away, and one of them says, "Oh wait, one more thing." And [Cushing] turns around and he's a skull, a skeleton, and you realize he's dead.

C-H: Fabulous.

Combs: Fabulous!
Classic-Horror would like to thank Jeffrey Combs for taking time out of his busy schedule to do this interview. Return to House on Haunted Hill comes out in all major digital formats on October 16th (pre-order the unrated DVD, HD-DVD, and Blu-ray Disc).