Kevin G. Shinnick Talks "Scarlet the Film Magazine"
Author
Date
10-06-2008
Comments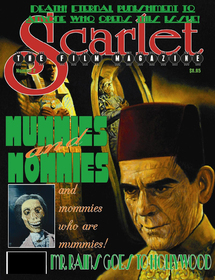 There's a new genre magazine on the block -- Scarlet the Film Magazine -- but classic cinema buffs might recognize something old in these pages. Scarlet is the spiritual successor of Scarlet Street, the now-defunct horror/mystery mag edited by the late Richard Valley. Scarlet publisher Kevin G. Shinnick was kind enough to talk with Classic-Horror about how this new periodical came about and the difficulties of putting out a print magazine in the age of the Internet.
Classic-Horror: What's the relationship between Scarlet the Film Magazine and Scarlet Street?

Kevin G. Shinnick: Scarlet Street ceased publishing when creator Richard Valley grew ill. Up until the last month, he was still working on putting out another issue as well as working on a Sherlock Holmes book. Sadly, when he passed on, the information for both was lost and legal problems prevented us from continuing the magazine as Scarlet Street. Richard confided in me several times that he wanted it to continue, at least for a while longer, before he switched over to just writing his books and plays.

So, trying to honor his memory and my promise, I asked several people who were involved in Scarlet Street about trying to create a similar magazine. We did not have access to the material that Richard had accumulated for over 15 years for Scarlet Street (research, photos, even subscribers) as that was all tied up the aforementioned legal matters, so we were basically starting from scratch. I contacted writers, artists, friends, and told them what I was trying to accomplish. Many surprisingly, opposed the idea, but a strong core group, led by Harry Long, Arlene Domkowski, Ken Hanke, with encouragements from the likes of Forry Ackerman, Joe Moe and Tim Sullivan we carried on.

We got some great articles and reviews as well as heartfelt tributes to Richard, wonderful original artwork from Michael Wilk and Dan Gallagher Jr, plus advertisers gladly took ads to support the effort and people contributed photos — really, the effort that so many people who gave so selflessly to the project- it's wonderful. Plus the stores and websites throughout the country and in Europe who picked us up for sale, ordered and re-ordered us. Scarlet #1 is almost sold out! I would like to point out that this is a labor of love, and none of us are making any money out of the magazine. Plus, Harry Long, besides his Herculean efforts on Scarlet, is also editor publisher on our sister magazine, Van Helsing Journal.

C-H: What sort of films/genres will Scarlet cover?

Shinnick: Scarlet the Film Magazine was chosen as the title to give us leeway to cover any type of genre that may interest, but it's main focus will be on the horror/ fantasy/ sci-fi/ mystery genres.

C-H: What writers do you have lined up?

Shinnick: For issue #2, we have continuation of articles from issue #1 by Leila Loban and more Poe from Harry Long, plus a sneak peek from David Skal's new book, and articles on the various mummy movies. We also have some ideas for some horror theme issues in the future that I am sure are going to be very thoughtful, intelligent , and definitely controversial. I like the idea of discussion of ideas. Plus we hope more from [Ackerman], and a lot of genre favorites.

C-H: What are some of the challenges that you face starting a new print periodical in a time when rising costs and falling circulation are causing many other genre magazines to web-only?

Shinnick: Money and the lack thereof! Plus, it is quite a scary time to be publishing a printed magazine. Stores that used to carry similar magazines to us have ceased to exist. Many magazines have ceased due to unscrupulous distributors, and I include some of the biggest ones. They feel it's our way or you can forget getting us into Barnes & Nobles. I spoke to one of the biggest in magazine distribution. And they wanted a lot of issues (we could have doubled our print run easily). The catch was, they would not pay us until sixty days after the new issue came out, and at present we are only bi-annual! So payment after 8 months! They also wanted to pay us less than our cost, and would deduct issues they didn't sell, and would just send us back a notary notice of issues they would say they had destroyed.

What business could stay in business that way? We said no, and went with a distributor who Is fair and local (Ubiquity), as well as the stores who bought from us directly . So, we may not at present be at Borders and Barnes & Nobles, but that is why. It wasn't that they didn't want us -- they did -- their distributors just don't want to pay us! Your readers can always ask at your local B&N or Borders, and see if they will stock through Ubiquity. Same as your local magazine and comic book store. By the way, I should also point out that the so-called "rival" magazines actually went out of their way with encouragement and helpful suggestions. These included Scary Monsters, Monster Bash, Rue Morgue, Screem, Little Shoppe Of Horrors, Monsters From The Vault –- and if I'm forgetting someone I apologize!

C-H: Are there plans for Scarlet to quarterly or bimonthly in the near-future?

Shinnick: Only if I want to kill Harry by overworking him. Actually it has been discussed, and the idea of increasing the number of issues will depend on how well we continue to sell, and time to put the issues out. Right now, Harry is putting together issue #2 of Scarlet and Van Helsing Journal #10. It is a lot of work for people who work full time jobs and this is not a money making proposition.

C-H: What are some of the topics covered in your latest issue?

Shinnick: Scarlet #2 will cover Mummies and Mommies, as well as continuation of some articles from our premiere issue about Edgar Allan Poe and the Gramercy horror films of the 1950s. Van Helsing Journal #10 will have articles on Le Fanu's Carmilla character, Aztec Mummy movies (a nice compliment to Scarlet's mummy articles), Dylan Thomas screenplays, and even Bela Lugosi Meets Old Mother Riley!

C-H: What's the road ahead for Scarlet look like?

Shinnick: Bumpy, like all print publications. However, we went in knowing that. That said, it has been amazing how people from all over the world sought us out, and ordered the magazine. There are a group of people who continue to bad mouth the magazine who did not like Scarlet Street. They keep wishing us to fail, we will never sell, and that they would never buy us. I hope that they continue to talk like this because every time they have posted comments like this, our sales increase, we get a new store ordering us, and new people asking how they can subscribe to us.

People who want to see the results can order Scarlet #2 and/or Van Helsing Journal #10 by sending checks or money orders, made out to the respective magazines, for $8.95 each, to

SCARLET THE FILM MAGAZINE
PO BOX 2092
CLEONA, PA 17042-2092.

Outside the USA, please add proper postage.
Classic-Horror would like to thank Kevin Shinnick for taking the time to talk with us on his exciting new project.