Lionsgate SDCC 2007 Panel
Author
Date
07-26-2007
Comments
Lionsgate presented a look at Midnight Meat Train at their Comic-Con panel Thursday. Based on Clive Barker's short story from Books of Blood, the movie follows photographer Leon Kauffman (Bradley Cooper) as he stalks serial killer Mahogany (Vinnie Jones).

Mahogany works in a meat factory by day and on the subway at night, where he "gets victims on the train and takes them to a special place to feed people." Further research outside the panel clarified that Mahogany is turning his victims into meat to feed subterranean cannibals.

Director Ryuhei Kitamura says his goal was to "make something better than Hellraiser and Candyman." Apparently he has succeeded - Clive Barker says of Midnight Meat Train, "This is the best adaptation - and I'm including my own work - of any short fiction that I've ever seen."

Shooting for another Books of Blood short story, "Pig Blood Blues," begins in October.

---

Also at the Lionsgate panel, producer Mark Burg and director Darren Lynn Bousman were joined by actor Tobin Bell ("Jigsaw") to discuss Saw IV. Although Jigsaw died in Saw III, fans were assured that there will be "no cheating" to bring him back.

The film received an NC-17 rating by the MPAA due to the intensity of the violence. The producers have not decided if any changes will be made in order to get an R rating, but the film will be released on October 26 "one way or the other."

Bell, Burg and Bousman will reunite in a new rock opera, Repo! "It's about the repossession of body parts, but they break out in song and dance." The "disturbing, sick, sexual" film will be released April 25, 2008.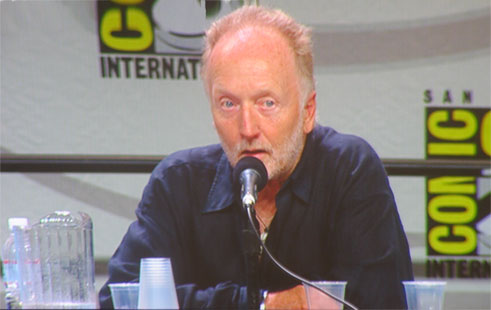 Tobin Bell talks Saw IV