More Details on Fox's "The Fly Collection"
Author
Date
07-02-2007
Comments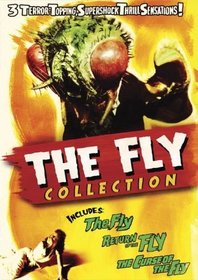 DVD Drive-In has more details on Fox Home Video's upcoming The Fly Collection. The box set, which will contain The Fly (1958), The Return of the Fly (1959), and (for the first time ever on home video in the US) The Curse of the Fly (1965). Additionally, DVD Drive-In has learned that David Hedison, star of The Fly, has recorded a commentary track for that film, moderated by David Del Valle of FilmsInReview.com. Del Valle said of the commentary: "David Hedison was in fine form for the duration of the taping. He had not seen the film for years so it was a fresh approach for him and he had fun with it. It was interesting to watch him look at himself as he appeared on film half a century ago." In addition to the commentary track, the set will include two new featurettes -- one on the making of the films and another on Vincent Price, who co-starred in The Fly and The Return of the Fly. Both featurettes include contributions from Hedison, Return of the Fly star Brett Halsey, Del Valle, and horror historian Don Glut.
The set is due to be released on September 11, 2007.