New "My Bloody Valentine 3D" Trailer
Author
Date
12-22-2008
Comments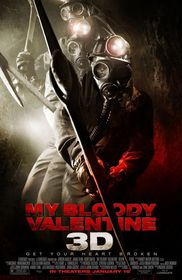 I wouldn't say that I'm excited about Patrick Lussier's My Bloody Valentine 3D, but I'm certainly intrigued. The 3D hook definitely sets it apart from other horror films coming out over the next few months. Let's just say I plan to be there opening weekend, which is actually something I don't do that often with new horror.
Anyway, Lionsgate has passed along new trailer for the film which touts it as the perfect "date movie", while still emphasizing the 3D gimmickry. I'm using this as an opportunity to test out some new video embedding capabilities (Javascript and Flash required).
Ten years ago, in the town of Harmony, Tom Hanniger (Jensen Ackles, The CW's Supernatural), an inexperienced coal miner, caused an accident in the tunnels that trapped and killed five men. The only survivor, Harry Warden, was left comatose, but awoke one year later on Valentine's Day to avenge himself, killing twenty-two people before being shot and killed. Now, a still-haunted Tom is returns to Harmony a decade after the tragedy, struggling to make amends. His ex-girlfriend, Sarah (Jaime King, Sin City), is now married to his best friend, Axel (Kerr Smith, Final Destination). But it is February 14th again and someone wearing a miner's mask and wielding a pickax begins offing the residents of Harmony. Tom, Sarah, and Axel must face the grim possibility that Harry Warden has returned.
My Bloody Valentine 3D opens in theaters on January 16, 2009. Theaters not equipped to handle the Real-D process that the movie uses will exhibit standard prints. I suspect that if this is anything like past forays into 3D horror, the sheer number of implements being thrust at the screen will render the flat version rather inert.