New Saw IV Poster
Author
Date
08-16-2007
Comments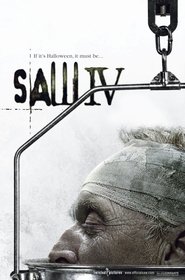 Lionsgate has released a new poster for Saw IV, the latest entry in the Saw series. Here we see what appears to be Jigsaw's head in a pan. This is a slightly altered version of this poster, unveiled about a month ago.
In Saw IV, Jigsaw and his apprentice Amanda are dead. Upon the news of Detective Kerry's murder, two seasoned FBI profilers, Agent Strahm (Scott Patterson) and Agent Perez, arrive at the depleted police precinct and help veteran Detective Hoffman (Costas Mandylor) sift through Jigsaw's latest grizzly game of victims and piece together the puzzle. However, when SWAT Commander Rigg, the last officer untouched by Jigsaw (Tobin Bell), is suddenly abducted and thrust into the madman's harrowing game, the officer has but ninety minutes to overcome a series of interconnected traps... or face the deadly consequences.
The film, directed by Darren Lynn Bousman (Saw II and III) and written by Patrick Melton and Marcus Dunstan (the scribes behind Feast), arrives in theaters October 26th, 2007.