New Special Edition DVDs for "Child's Play", "Pumpkinhead"
Author
Date
06-12-2008
Comments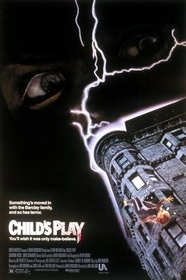 MGM is putting together a 20th Anniversary Special Edition DVD of Tom Holland's 1988 killer doll movie Child's Play, to be released by Fox Home Video on September 9th, 2008. The disc will feature a new 1.85:1 widescreen transfer, a 5.1 Dolby Digital soundtrack, an audio commentary, a "selected scene" commentary by the film's villainous doll Chucky (Brad Dourif), a series of featurettes (Evil Comes in Small Packages), a vintage featurette (Introducing Chucky: The Making of Child's Play), a trailer, a photo gallery and more. I don't have any information on a suggested retail price yet, but I will update this story when I find out.
Also coming out September 9th will be a special edition of Stan Winston's Pumpkinhead. No word yet on what that will entail, feature-wise.
Information on the Pumpkinhead release comes from a post by Jameson281 on the Classic Horror Film Board (no relation to Classic-Horror.com).