New Trailer for "The Strangers"
Author
Date
03-12-2008
Comments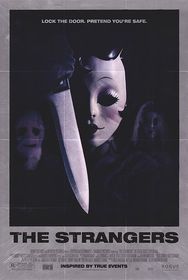 When we interviewed writer-director Bryan Bertino about The Strangers in July (for an upcoming feature), we were impressed with his grasp on suspense and what made the horror genre tick. When his movie's release date kept getting pushed back, we started to worry that our faith had perhaps been misplaced. However, the trailer has just showed up on Yahoo Movies, and our fears have been dispelled. From what we can tell, Bertino not only talks the talk, but he directs the walk. In just over two minutes, this atmospheric condensation of the movie's premise creeped out both myself and my co-editor Julia enough to immediately lock the door to the apartment. It's that good. As Jeremy Smith at CHUD puts it, "[the trailer] suggests that Mr. Bertino has studied up on his John Carpenter." Indeed.
The official synopsis for the film runs thus: Champagne. Rose petals. Candlelight. It was supposed to be a night of celebration for Kristen McKay (Liv Tyler) and James Hoyt (Scott Speedman). But after leaving a friend's wedding reception and returning to the house, everything had collapsed for the happy couple. Then came a 4 a.m. knock on the door and a haunting voice. Is Tamara here?
The Strangers opens May 30, 2008.