No Bruce Campbell in "Bubba Nosferatu"
Author
Date
08-27-2007
Comments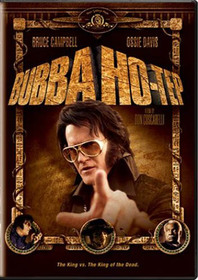 Although it had been long-rumored that actor Bruce Campbell would not be reprising the role of Elvis in Don Coscarelli's Bubba Ho-Tep sequel Bubba Nosferatu, the actor confirmed the news to Fangoria Radio on Friday. Apparently, the issue came down to the script. "[Don Coscarelli and I] got to a few points ... that we couldn't reconcile. I want to keep our friendship, so we parted ways. So I'm not part of that project." Coscarelli is reportedly thinking about recasting the part, but acknowleged to Fangoria that it would be difficult to fill Campbell's shoes.
Bubba Nosferatu's plot as it stands now involves Elvis fighting Vegas-based vampires while dealing with the manipulations of his manager, Colonel Tom Parker (to be played by Paul Giamatti).
More news from Campbell, including the status of the Evil Dead remake, can be found at Fangoria.com.