Original Universal "Mummy" Getting Special Edition DVD
Author
Date
04-22-2008
Comments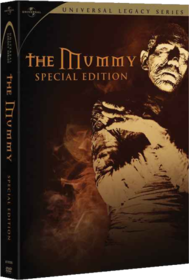 Karl Freund's 1932 classic The Mummy, featuring Boris Karloff and Zita Johann, will be released in a 2-Disc Special Edition DVD set on July 8th, 2008, as part of the Universal Legacy Series. The set comes out just a month before the theatrical release of The Mummy: Tomb of the Dragon Emperor (a sequel to Stephen Sommers' 1999 Mummy remake). According to DVDTimes.co.uk, Freund's original will be presented in 1.33:1 aspect ratio with the soundtrack in mono. No word yet on whether these will under go any further restoration/remastering like the recent 75th Anniversary editions of Dracula and Frankenstein.
New special features on this set will include two featurettes (one on makeup artist Jack Pierce and called "Unraveling the Legacy of the Mummy") and a group commentary track by makeup effects artists Rick Baker and Brent Armstrong, film historians Scott Essman and Steve Haberman, and renowned horror/sci-fi archivist Bob Burns. Film historian Paul M. Jenson's commentary and the Mummy Dearest documentary from the previous releases of the film will also be included. The Kenneth Branagh-narrated documentary Universal Horror will also be included.
Coming out the same day will be 2-Disc sets for Stephen Sommers' The Mummy (1999) and its immediate sequel The Mummy Returns (2001). Both sets will also include the "Unraveling the Legacy of the Mummy" featurette, as well as the usual slate of commentaries, documentaries, etc.
The two Stephen Sommers films will have suggested retail prices of $19.98, while The Mummy: Universal Legacy Series Special Edition will list at $26.98. As usual, if you look around, you'll find them much cheaper.