Paramount to Release Uncut DVD of "Friday the 13th"
Author
Date
11-03-2008
Comments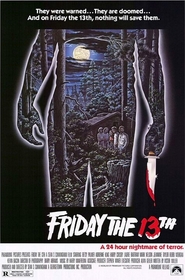 One of the most-repeated fandom gripes I heard at the International Horror & Sci-Fi Film Festival was directed squarely at Paramount -- they won't release the uncut DVDs of the slasher movies that they produced and/or distributed in the 1980s, even when the materials are plainly available. Well, one such complaint may be silence now -- Paramount Home Entertainment has announced new DVD and Blu-ray "Deluxe Editions" of Friday the 13th that will restore gore footage that has been missing from all US releases of the film (Warner Bros., owner of the foreign rights to the movie, has had the uncut version out for years in Europe). Both will come out on February 3, 2009.
Special features on the Deluxe Edition will include director Sean S. Cunningham's commentary track, four featurettes (Fresh Cuts: New Tales from "Friday the 13th", Man Behind the Legacy: Sean S. Cunningham, Friday the 13th: Special Reunion, and Lost Tales from Camp Blood: Part 1), and a trailer.
Also due out on February 3rd are Deluxe Editions of Friday the 13th Part 2 and Part 3, although both appear to be the theatrical versions. Part 2 will also be heavy with special features -- five featurettes (Inside Crystal Lake Memories, Horror Convention, Slasher Films: Going for the Jugular, Jason Forever, and Lost Tales from Camp Blood - Part 2), a Jason trivia text track, and a trailer. No word yet on what will be on the Part 3 disc, but one assumes that Paramount will include the cast commentary featured on their Crystal Lake to Manhattan box set from 2004.