Planet Hollywood to Host "Resident Evil: Extinction" Premiere
Author
Date
09-05-2007
Comments
Planet Hollywood's Las Vegas Resort and Casino, in an attempt to reinvent itself as the Tinseltown of Nevada, is hosting a month-long promotional push for Screen Gems' Resident Evil: Extinction, which will culminate in the film's September 20th premiere. Two thirty-foot banners advertising the movie, directed by Russell Mulcahy (Highlander), have been flying outside Planet Hollywood Las Vegas since mid-August. Hotel rooms will receive a channel devoted to promotional material for the film, there will be ticket giveaways and a chance to win a BMW motorcycle.
"Usually, premieres are just premieres, but this is an integrated promotion with a premiere," said Mark Weinstock, Executive VP of Marketing for Screen Gems.
"We like to think we're in the marketing world, so we're fully embracing these movies," said Planet Hollywood CEO Robert Earl. "We're giving it over to the movies."
Resident Evil: Extinction, starring Milla Jovovich, Oded Fehr, and Ali Larter, opens in theaters everywhere September 21st, 2007.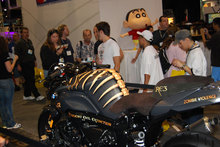 Is this motorcycle (seen at San Diego Comic-Con 2007)
the one being given away?