Ray Bradbury (1920-2012)
Author
Date
06-07-2012
Comments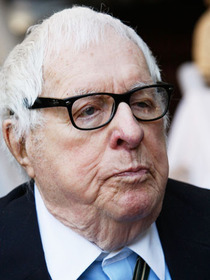 The world truly has lost one of the greatest writers of the 20th century. Ray Bradbury, well known science fiction author among thousands of fans, died on June 5th, 2012 after a lengthy illness.
Bradbury is most well known for sci-fi novels like Fahrenheit 451 and The Martian Chronicles. He was also known for dipping his toes in the fantasy and horror genre, with such novels like Something Wicked This Way Comes. He wrote several upon several short stories, 27 of them being adapted for EC Comics.
Some of his work can even be seen on the screen (both big and little) as well. Bradbury wrote the original story to Jack Arnold's 50s sci-fi classic, It Came from Outer Space. His short story, The Fog Horn, would end up being the basis for The Beast from 20,000 Fathoms. And he even wrote five episodes for the hit television show Alfred Hitchcock Presents. Bradbury would continue writing up until his tragic death. The last known thing he wrote was the 2012 short movie Ray Bradbury's Kaleidoscope, which luckily has been completed.
I was always familiar with Bradbury's work in the science fiction community, but after hearing this unfortunate news, and looking into more detail about his bibliography, I am shocked that I didn't find out about his work sooner. He really was one of the great authors of science fiction, fantasy and horror there ever was, and that there ever will be.
Even though I haven't been too exposed to Bradbury's great and fantastic work, I will say this: Rest in peace Ray! Your writings will live on to the days that we colonize Mars and beyond.