"Repo! The Genetic Opera" to Slice Its Way to the Phoenix Area
Author
Date
11-19-2008
Comments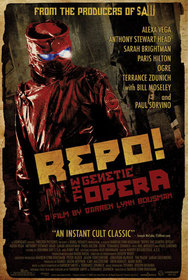 Classic-Horror.com is based out of Phoenix, AZ, so occasionally we provide horror news specific to that region. The big genre news for the Valley of the Sun right now is that at 10:00PM on December 4th, 2008, Chandler Cinemas in Chandler, AZ will be host a special, one-night-only screening of Repo The Genetic Opera with director Darren Lynn Bousman and screenwriter/composer Terrance Zdunich in attendance. This is part of a special four-city expansion of Repo's highly successful tour of independent cinemas across the United States. Tickets for the screening will be $15.00 (cash-only at the door or order in advance). If the 10PM show sells out, a second midnight screening may be added as well.
In the year 2056 - the not so distant future - an epidemic of organ failures devastates the planet. Out of the tragedy, a savior emerges: GeneCo, a biotech company that offers organ transplants, for a price. Those who miss their payments are scheduled for repossession and hunted by villainous Repo Men. In a world where surgery addicts are hooked on painkilling drugs and murder is sanctioned by law, a sheltered young girl searches for the cure to her own rare disease as well as information about her family's mysterious history. After being sucked into the haunting world of GeneCo, she is unable to turn back, as all of her questions will be answered at the wildly anticipated spectacular event: The Genetic Opera.
In their press release, the Chandler Cinemas people had this to say:
Chandler Cinemas is proud to be the exclusive venue for REPO! in the Phoenix area. As the Valley's only independent theatre, home to The Midnite Movie Mamacita, The Rocky Horror Picture Show, and a host of other off the wall, alternative, underground programming and events, our reputation for edgy, indie fare and built-in audience hungry for something beyond the mainstream makes Chandler Cinemas the natural choice for this groundbreaking, instant cult classic.
Chandler Cinemas is located at 2140 N Arizona Ave in Chandler, Arizona.
Edit: Forgot to mention that the Repo! screening is for adults only. No one under the age of 17 will be admitted.