Roger Bartlett ("Texas Chain Saw Massacre" musician) Interview
Author
Date
10-22-2010
Comments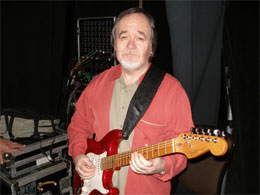 When we talk about sound in The Texas Chain Saw Massacre, what usually comes up is the bizarre cacophony that Tobe Hooper and Wayne Bell put together for the musical score. However, there's another aural element that plays an important part in TCSM. The use of country and bluegrass tunes that play on radios within the world of the movie add another layer of reality to the already gritty presentation. One of those songs, playing during the Hitch-hiker's introduction, is "Fool for a Blonde" by Roger Bartlett. Classic-Horror.com guest correspondent John Wisniewski had a chance to ask Bartlett about his career and the inspirations that lead to the song's creation.
Could you tell us about your background in music?

Growing up, my dad was a disk jockey on the radio. When I was a baby he had a show called, "Groovey's Boogie - with Groovey Boy," him being Groovey. He was one of the first white DJs to play black music on mainstream radio. He played stuff my everybody from Muddy Waters and Johnny Otis to Cab Calloway and Duke Ellington. My Uncle Tommy taught me to play guitar when I was 11 years old. My first songs were "Beautiful, Beautiful, Brown Eyes," "Out in the West Texas Town of Elpaso," and "Tom Dooley."

What bands did you play with during the 1960s?

In the mid 60s I played guitar, organ and trumpet for a band called The Legends (first band). I moved on from there to a band called The Reknown (not Renown, Reknown) because we had to change the name. With the Reknown we had a small record that made some noise regionally. We toured the midwest playing such entertainment meccas as St. Paul, MN, Peoria, IL, Quincy, IL, Colombia, MO, Laughton, OK. We also provided back up for a group called the Vogues on a short tour. The had one particuar hit, "You're the One" that was top 10.

Anyway, when the Reknown broke up me and the drummer recruited an outside bass player and formed a power trio to play Led Zeppelin and Cream songs. The band was called "The Burning Bush" because our bass player was named Bush Morrow and for our one big concert we were going to end by lighting him on fire. Not really, but that was the joke. We must have been really stoned! We broke up before that gig and I moved to Dallas and played with a band from North Texas State University called The Black, White and Blues Band. As I'm sure you've guessed, we were a band of mixed ethnicities.

Then I hit the club circuit with a band called Bacchus. We did pretty well at clubs and proms, etc. but eventually some people in the band freaked out on drugs and the band broke up. Now we move into the 70s. I went up to Nashville with an acoustic trio called The Outlaw Brothers. Country Rock was just getting started. For a short time we backed up David Allen Coe who went on to some notoriety but that ended pretty quick. We played all around Nashville as a trio, including a club called The Exit Inn where we opened for a folk singer on a small label (Barnaby Records) named Jimmy Buffett. The Outlaw Brothers, Michael Lind, George Worthington and myself left Nashville and moved to Atlanta for a couple of months until we realized the music scene there was moribund. Off we went to L.A. where we lasted a couple of months before we split.

I went back to Nashville where I started playing the Military Base circuit with Lit tle Richie Jarvis and Good Home Cooking. Did that for about a year and then hooked up with Bill Callery. We were heading to San Francisco but stopped off in Austin, TX to play some gigs and make some money. I ended up staying there for a couple of years until I ran into Jimmy Buffett again and he hired me to go on the road with him.

Who inspired the song "Fool for a Blonde"?

While living in Austin, I got into a Django Reinhardt phase. I love that old swing stuff. That's where "Fool for a Blonde" came from. The lyrics were inspired by my first true love, Becky Healey, but I do like my blondes in general. Since Fool for a Blonde, I've decided maybe I should write a song just called, "Fool," that might be a more appropriate description of me when it comes to women. It was my big hit in Austin so I recorded it at Jim Inmon's studio, Hill on the Moon.

Did you watch rushes from The Texas Chain Saw Massacre before you wrote the song?

I've never actually met Tobe Hooper, he just dropped by Hill on the Moon and had Jim Inmon play him some songs. One of the songs he liked was "Fool for a Blonde" because he thought the hitchhiker was a fool for Sally. I went to the Premier in Austin but was not introduced to any of the actors or the director. It wasn't until the 30th Anniversary Reunion in Cleveland at the Cinema Wasteland Expo that I finally met the actors. They are a great bunch. In fact, I'm going to be shooting a video for "Fool for a Blonde" and Gunnar Hansen is going to be in it. Better nate than lever is what I always say.
Thank you to John for the interview and Roger for being interviewed.