Rumor: The Picture of Dorian Gray on DVD in Oct. 2008?
Author
Date
06-06-2008
Comments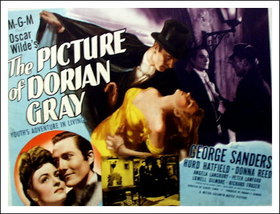 Update, 06/09/2008: Warner Bros. has officially announced this release.
Nothing official yet, but over at the Home Theater Forum, Art AD reports that Warner Bros. may finally release a domestic DVD release of Arthur Lewin's 1945 masterwork The Picture of Dorian Gray later this year. Without citing sources, Art notes that the anticipated release date is October 7th, 2008, and the disc will feature a commentary by Angela Lansbury. No word about whether or not this will be part of the classic horror box set that Warner Bros. has planned for later this year.
Until we hear something more official from Warner on this subject, I am keeping my reaction down to mild overwhelming joy.
The Picture of Dorian Gray, adapted from Oscar Wilde's novel, follows Dorian (Hurd Hatfield) who vainly wishes to remain young forever. His wish is granted and a portrait made by a friend ages in his stead. Under the influence of his amoral friend Lord Henry Wotton (George Sanders), Dorian descends into a life of debauchery and destruction, and the painting begins to reflect his sins as well. Soon, the portrait is utterly hideous, while Dorian remains unchanged.