Shiverin' 6: Anticipated Fall 2009 Horror DVDs
Author
Date
09-14-2009
Comments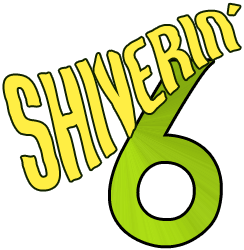 When it comes to horror DVDs, September and October have always been like an early Christmas for me, except that I have to buy for myself. Still, new releases of interesting genre titles have always been abundant in the autumn, and this year is no different. With much difficulty, we've winnowed down the list of our most anticipated releases to just six, which we present below, in order of release.
An American Werewolf in London: Full Moon Edition

Release Date: September 15, 2009

Sure, this is the third DVD release of John Landis's seminal werewolf film, but even if you have bought the movie previously, you'll want to pick it up again. This latest edition includes the fan-made documentary Beware the Moon: Remembering "An American Werewolf in London", a project begun simply to express devotion for the 1981 flick, with no guarantee that it would even be legal to release it once complete. Fellow LOTT-D member Zombos' Closet has an interview with documentarian Paul Davis that provides the full story of how this labor of lycanthropic love came to be a studio-endorsed special feature.

Karloff & Lugosi Horror Classics

Release Date: October 6, 2009

Four films -- two for Karloff (The Walking Dead and Frankenstein 1970), one for Lugosi (Zombies on Broadway) and one for both (You'll Find Out) -- make for a somewhat eclectic collection. To be perfectly honest, despite the fact that Frankenstein 1970 has a commentary by the always-entertaining Tom Weaver, the primary reason we're stoked for this one is The Walking Dead. Covered extensively in Gregory Mank's Hollywood Cauldron, the film takes an almost spiritual approach to the resurrection of the dead, making it something of an anomaly in Hollywood's revenant repertoire. Mank will also provide a commentary on the film and I'm excited to hear any new ideas and interpretations he may have come up with in the fifteen years since Hollywood Cauldron's publication.

Trick 'r Treat

Release Date: October 6, 2009

Having enjoyed festival showings and special screenings over the past year, Trick 'r Treat is finally getting released to the nation at large. This horror anthology slipped through the corporate cracks, and a treasure trove of frights and laughs awaits discovery by the horror buffs who have been anxiously awaiting. With appearances by Anna Paquin, Bryan Cox, and Dylan Baker, Trick 'r Treat combines dark humor, stylistic visuals, and strong performances that frighten and entertain in equal parts. If the film isn't already on your Halloween viewing list, it's time to add it to the top. -- Timothy J. Rush

The William Castle Film Collection

Release Date: October 20, 2009

We said everything that really needs saying before, so we'll just recap quickly: eight films, three of which have never been on DVD before (13 Frightened Girls, Zotz! and Castle's oddball Hammer co-production The Old Dark House) and the rest (13 Ghosts, Homicidal, The Tingler, Strait-Jacket, and Mr. Sardonicus) newly remastered. That's no gimmick.

Night of the Creeps

Release Date: October 27, 2009

Admittedly, we're using this entry as a catch-all for a number of 1980s horror movies finally making their way to DVD for the first time. We chose Night of the Creeps as the standard-carrier, though, because it seems to be the most in-demand and, unlike the others, it features Tom Atkins spouting catchy one-liners. Other Reagan-era horrors making their digital debut include Don Coscarelli's Phantasm II (out on 09/15/2009) and Joseph Ruben's The Stepfather (out on 10/13/2009 with director's commentary and a retrospective documentary).

Messiah of Evil: The Second Coming

Release Date: October 27, 2009

If you've ever bought one of those multipacks of public domain films, chances are that you already own a copy of Messiah of Evil, the 1973 chiller written and directed by American Graffiti scribes Willard Huyck and Gloria Katz. However, you've probably never seen the movie (also known as Dead People) in its proper aspect ratio of 2.35:1, cleaned-up and looking great. Code Red's new DVD will finally let us see the movie as Huyck and Katz intended. Code Red has been working with the two to put together this definitive version (which also excises a song that Huyck says that he never wanted in the final cut) and it's finally seeing the light of day this October. The disc will include a commentary track by the directors and other goodies yet to be announced.
What are some of your anticipated releases? Tell us in the comments!