Shiverin' 6: Holiday Horrors
Author
Date
12-24-2009
Comments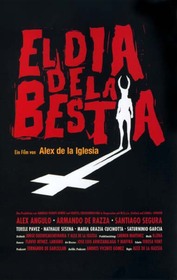 Twas the day before Christmas, and all through this site
Not a staffer was stirring, which just wasn't right.
The hiatus hung over like a mordid death pall,
Until our fearless editor said, "Have a list, ya'll!"
The readers all gaped because the site should be still,
Weren't these people on break? Did they know how to chill?
But old Nate figured that just one post couldn't hurt,
So he opened the WYSIWYG and got down to work.
He threw together a list of Yuletide frights and terrors,
And hoped that commenters would call him on errors.
Six films he chose, with their own peculiar cheer.
Listed chronologically, how else would they appear?
Dead of Night (1945)

Alberto Cavalcanti's "Christmas Party" segment in this British horror anthology is often overlooked in favor of the director's other contribution, the influential "Ventriloquist's Dummy." However, the Yuletide-flavored story has its own merits, not least of which is its subtly creepy atmosphere. Kudos also go to Sally Ann Howes as the young lady who, during a game of hide-and-seek, gets lost in an old mansion, only to meet a little boy keen on having her stay with him... indefinitely.




Tales from the Crypt (1972)

The first segment of Freddie Francis's portmaneau of EC Comics adaptations, "All Through the House," is the one that feels the most faithful to its source. In twelve minutes of mostly-dialogue-free mayhem, Joan Collins knocks off her husband for the insurance money, only to get her comeuppance from an escaped lunatic in a Santa costume. What's key in making this story a delicious Yuletide treat, however, is the atmosphere into which Francis and production designer Tony Curtis plunk the bloody proceedings. As Collins bashes her spouse in the head, she's surrounded by the perfect middle-class Christmas living room -- bright lights, a fully-decorated tree and just enough additional decoration to feel homey without heading into tacky. And what cat-and-mouse game between a psycho St. Nick and his prey is complete without Christmas carols on the radio? Lovely. Classic-Horror.com review.




Black Christmas (1974)

Misanthropic to an extreme, Bob Clark's early entry into the slasher genre is the perfect antithesis to holiday cheer. An unseen maniac is making lewd calls to the members of a Canadian sorority, screaming at them in a cascade of strange, unintelligible voices. When that's not unnerving enough, the crazy also murders the heck out of the girls. Nobody has a happy holiday in this one, except maybe the viewer. Classic-Horror.com review.




Gremlins (1984)

If ever you had the notion to give a child a pet for Christmas, Joe Dante's Gremlins should give you pause. Sure, care and feeding seems easy enough, but who knows when that fuzzy bundle of joy will start spawning monsters who wreak havoc across town? Dante and screenwriter Chris Columbus (with able assistance from executive producer Steven Spielberg) turn a Capra-esque Christmas on its head to hilarious and thrilling effect. Classic-Horror.com review.




A Christmas Carol (1984)

Two key elements make Clive Donner's version of the Dickens classic the one we choose to honor here at Classic-Horror.com. First, Donner chooses to emphasize the undercurrents of horror that run the tale, especially in Scrooge's encounters with Jacob Marley and the Ghost of Christmas Yet to Come. Second is George C. Scott's performance as Ebenezer Scrooge, one of the most three-dimensional portrayals of the character. Here is a Scrooge who has not forgotten how to laugh or smile, but has simply realigned these responses with his embittered, callous heart. This spark of humanity makes Scrooge's redemptive journey both more believable and, ultimately, more satisfying. Classic-Horror.com review.




Day of the Beast (1995)

None of the films we've listed so far have dealt with the origins of the holiday. Álex de la Iglesia takes on that challenge, in a way, in this brilliant black comedy thriller. Father Ángel discovers that the Antichrist will rise on Christmas, giving him only a handful of days in which to stop it. Ángel's solution is to go out and ingratiate himself with the forces of darkness by commiting as much evil as possible. However, having been out of society for a while, the priest's idea of evil is stealing change from beggars, pushing mimes off of podiums, and listening to heavy metal. Despite his naïveté, Ángel soon draws a dim music store clerk and a television psychic into his mission, which gets only more twisted and desperate as the Antichrist's birth draws near. Alas, this movie isn't available on any sort of official DVD release in the United States.



And as Nate hit Submit, he said with a smirk,
"Happy Holidays to All! I... should get back to work."