Shocktober 2007: Lucio Fulci Week
Author
Date
10-15-2007
Comments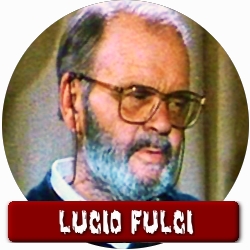 Each week in October this year, as part of our Shocktober Classics event, we'll be featuring a different director who has significantly contributed to the horror genre, with new reviews for that director's films from Monday to Friday of that week. For the third week of October, we turn our gaze to Lucio Fulci, popularly referred to as "The Godfather of Gore."
Fulci began his film career working as a screenwriter before graduating to director with the Toto comedy I Ladri (The Thieves) in 1959. Although he filmed movies of many different genres throughout his 32-year career, he is best known for his horror films. His early efforts in the genre (including 1969's Perversion Story, 1971's A Lizard in a Woman's Skin, and 1972's Don't Torture a Duckling) were frequently mystery-thrillers in the giallo tradition, with only the occasional use of gore effects.
In 1979, he directed Zombi 2 (known in the USA as Zombie), an unofficial sequel to George A. Romero's Dawn of the Dead. From here on out, Fulci's films would frequently be brimming with blood, guts, and ocular trauma. After breaking ties with frequent producer Fabrizio De Angelis after Manhattan Baby in 1982, Fulci's output took a dive in quality, and it seemed like he was doing some of the films just for the paycheck. He was also frequently ill during the late 1980s, which made working difficult. He directed himself in 1990's A Cat in the Brain, playing "Dr. Lucio Fulci," a horror film director whose violent films are beginning to disturb him.
Due to his increasingly poor health, Fulci didn't make another movie after 1991. In 1996, he and Dario Argento began working on what would have been his return to the screen, The Wax Mask, but before filming could get underway, Fulci died of complications from diabetes. He was 68.
Shocktober Fulci Week Reviews:
Saturday Bonus: Review of Zombi 3 (1988, partially directed by Fulci)
Other Fulci Reviews on Classic-Horror.com:
City of the Living Dead (1980)
The Beyond (1981)
The New York Ripper (1982)
Shocktober 2007 Schedule:
Week of October 1st: Roger Corman
Week of October 8th: Wes Craven
Week of October 15th: Lucio Fulci
Week of October 22nd: Mario Bava
Week of October 29th: Bava continued (through the 31st)