Sid Haig, Hammer Horror, and Dark Shadows at Shock It To Me! Classic Horror Film Festival
Author
Date
10-06-2008
Comments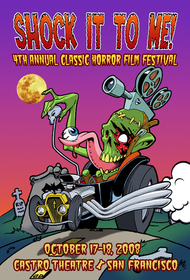 For its fourth year, Shock It To Me!, San Francisco's Classic Horror Film Festival, is pulling in some excellent films and a few awesome guests. The festival, which runs October 17th and 18th at the historic Castro Theatre (429 Castro St. @ Market St.) is devoted to the Golden Age of Horror Cinema, and the organizers are showing their love with three double features.
Friday Night (10/17): Jack Hill's Spider Baby at 6:30PM, followed by George A. Romero's Night of the Living Dead at 10PM. Spider Baby star Sid Haig will be on hand for a live interview.
Saturday Matinee (10/18): Terence Fisher's Horror of Dracula (2PM) and Curse of Frankenstein (4PM).
Saturday Night: It's a smorgasbord of Dark Shadows as show stars Kathryn Leigh Scott and Lara Parker will be on hand for screenings of Night of Dark Shadows (6:30PM) and House of Dark Shadows (10:30PM). Also during the program, film historian Darren Gross will present a look at the restoration work done for the upcoming Night of Dark Shadows DVD release.
All guests will be available for autographs throughout the festival as well. Plus, contests, vendors, and more! Tickets for the festival are $10 per double feature ($7 for children and seniors); you can buy them at the Castro Theatre or online through ticketweb.com.
If you're in the San Francisco area, definitely check this out, if only to receive my long-distance waves of envy.