Sideshow Collectibles (The Comic-Con Experience 2008 #3)
Author
Date
07-30-2008
Comments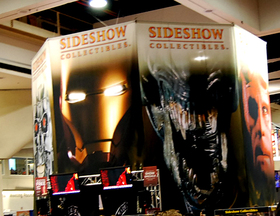 Everybody loves toys. Everybody - including Comic-Con. There are entire parts of the Exhibition Floor devoted to toys – action figures, statuettes, plushies, etc. At Comic-Con, toys are everywhere. And, because toys are everywhere, The Comic-Con Experience 2008, Feature #3 is Sideshow Collectibles.

While Sideshow originally got its start making chintzy little toys and figures of pop culture notables, the company has grown and now specializes in high-quality, screen-accurate replicas of well-known genre characters. These figures, statuettes and life-size replicas do not come cheap, ranging in price from $35 for some of the more common, smaller items to thousands of dollars for their more elaborate display pieces.

Of particular interest is Sideshow's continued work in producing high-quality horror replicas and figures. This year's offerings contained horror tributes to the Alien and Predator films, Elvira, and, of course, a smattering of classic horror figures, including the Creature From the Black Lagoon and Dracula.

One place in which Sideshow has really excelled is in the creation of their 1:1 busts, which carefully preserve the original look of the character as it appeared on screen. While their most recognizable of these busts is probably the Demon from Legend, the editor's choice from this year's display is the bust of Count Orlok from Nosferatu. In addition to carefully preserving the look of the character in durable fiberglass, the bust is carefully colored to reflect black and white of the original 1922 film. While it may not be new to this year's display, it remains one of their best pieces.
If you're interested in seeing more of what Sideshow has to offer, including ordering opportunities for several of these fantastic, collector's quality toys, you can visit their website at SideshowToy.com.
Also, be sure to check out our Sideshow booth photo gallery.